For the past 63 years Manchester City have respectfully supported Manchester United's mourning of the Munich Air Disaster in all ways possible.

So I fully understand United not demanding punishment for Fernandinho's deleted tweet that was abhorrent to all respectable football supporters.

But there are some actions that are inexcusable and demand consequences whatever the excuse. And that's why I commend Manchester United supporters who do not want this to be simply brushed under the carpet.
On this occasion the call for action must come from respected supporters representatives. And there is no more honourable group of fans than the Manchester Munich Memorial Foundation.

I'm proud to say that my good friend Patrick Burns, chairman of the MMMF, has acted decisively and with respect after being informed by Manchester United that both football clubs accept Fernandino's explanation for the offensive tweet.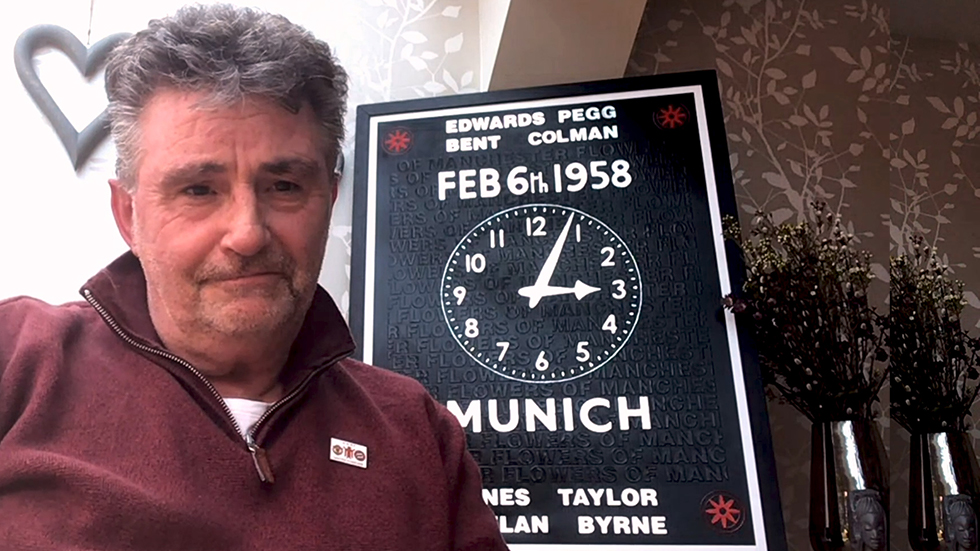 Consequently, Burns (pictured above) has written to both the English FA and UEFA urging action to be taken, explaining:

'It was brought to my attention that an incident had taken place on Saturday 6th February, our Munich Memorial anniversary.
"I studied the news article and contacted the club, believing this was not an unfortunate coincidence or a mistake. MUFC have responded saying they accept MCFCs explanation and it should be allowed to rest.
"At a time when we see racism, homophobia and death mocking in both mainstream and social media, and feeling particularly aggrieved still, I have written to both the English FA and UEFA for their views on this wholly regrettable and shameful incident."

Fernandinho's tweet, posted on the anniversary of the Munich Air Disaster, featured a photograph of him performing an aeroplane celebration along with four emojis depicting an exposion/crash, football, and aeroplane and laughter.
It was quickly taken down with the player insisting it was innocently posted by his social media team in Brazil and was not intended to mock Munich, despite being posted on the actual anniversary of the crash.

As one of my esteemed colleagues in the media told me this afternoon: "Social media teams create more havoc than they are worth. If players want an account, write it yourself."

I agree with the sentiment entirely that players should write their own comments. But hiding behind the excuse that those he entrusted to represent his views let him down is not an excuse. Far from it.

Just like a newspaper editor risks going to jail if his reporters break the law, anyone who publishes anything on social media is responsible for what is broadcast in his or her name. No exceptions.

But let's cut the excuses. There is absolutely no way this tweet was a coincidence or an unfortunate mistake. And even if it was, which millions of Manchester United fans around the world doubt, any failure by the Football Association to address this matter fully would be a disgrace.
The FA insisted on banning Edinson Cavani for three matches after immediately deleting a celebratory instagram message to his good friend that was wrongly deemed to be racist. So they have absolutely nowhere to hide when asked to punish Fernandinho.

At the very least the FA must have a full inquiry and make some kind of statement.

They owe that to the fans around the world who have spent the weekend paying emotional tributes and memorials to the eight Busby Babes and former Manchester City goalkeeper who were among the 23 who tragically lost their lives in Munich.

There is no love lost between the FA and Manchester United fans. But for once we urge you to do the right thing.
UPDATE: Tuesday 9th February – 72 hours later and the silence from the FA is deafening. The double standards here are staggering. We all know if a Manchester United player was being accused of an alleged misdemeanour it would be wall to wall headlines and universal condemnation from the mainstream media.