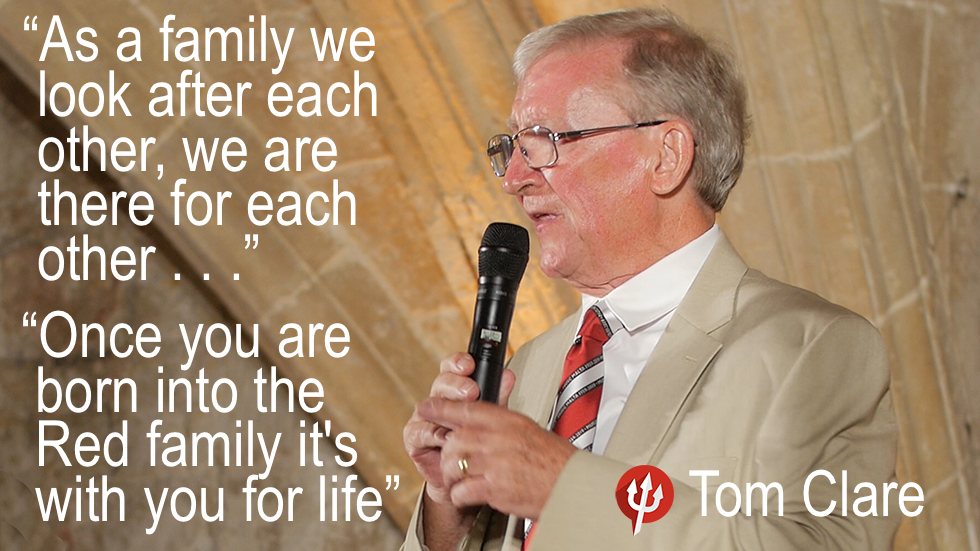 Editing scenes for my upcoming feature documentary about the world's oldest Manchester United Supporters Club, I was this week reviewing a speech made by iconic fan Tom Clare at the Gala Dinner in Malta celebrating their 60th year.
There was one line delivered by Tom which resonates perfectly when he declared: "As a family we look after each other, we are there for each other and over the last few years I have found that to be so true."

Tom, fighting his own long and persistent battle with cancer is on his way from his adopted home in Houston, USA, to return to his spiritual home in Manchester where he will be speaking on Friday night at the Manchester Munich Memorial Foundation dinner raising money for children's charities in Manchester, Munich and Belgrade.
Due to United's qualification for the Europa League, the Association of Former Players were forced to delay their Charity Sportsman's Dinner from Thursday night to Friday, which means a clash with the MMMF Gala Dinner.

But typical of the Red Family the two organisations are supporting each other every which way they can, and it is my honour to share with you the photographs taken by Mike Thomas on behalf of the MMMF.

In action is the great Denis Law, signing items donated by his good friend Alan Wardle on behalf of the AFMUP. The fabulous artwork by Stewart Beckett – signed by the King and other legends including Harry Gregg – will be auctioned off at the MMMF Dinner.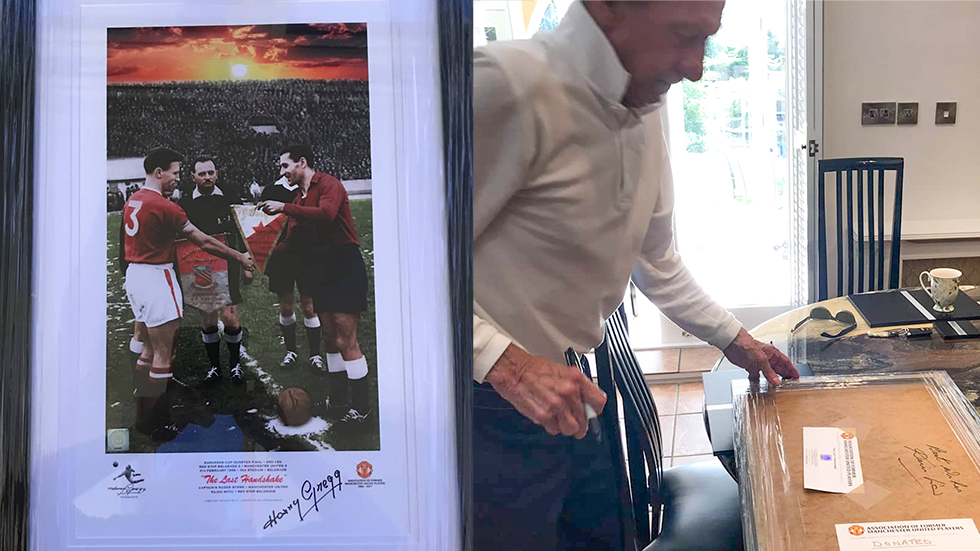 Like the MMMF, the Association of Former Players raise many thousands of pounds for charity every year and will be doing so again at their dinner on Friday night. It is an honour to promote the role of both fabulous organisations, my only regret along with others is that I can not attend both events because of the fixture pile-up.

The AFMUP do, honouring 1977 FA Cup winning skipper Martin Buchan, will also have a charity auction featuring incredible items gifted by Beckett. Buchan's former manager Tommy Docherty, who is now 91and rarely appears at Old Trafford, is also a special guest. A rare treat for United fans who fondly remember The Doc Years.
It is typical of Tom, a much respected historian and author who fondly remembers the Busby Babes pre-Munich, that he is willing to take time out do his bit to help raise money for charity when he is fighting the biggest battle of his life.

"Once you are born into the Red family it's with you for life," says Tom. A poignant message from a man who – like the AFMUP and the MMMF – has spent so many years helping to keep alive the legacy of Manchester United's history.
If you are going to either of this Friday night's dinners and have the means to bid for the amazing items up for auction you will not only be buying a priceless piece of United history, you will be contributing to one of the many worthwhile charities supported by both organisations.

BY JOHN GUBBA