The job of the manager, as Joe Royle so eloquently summarised some years ago, is to get the best out of the players he has. It's a mantra I never get tired of quoting.
Has Jose Mourinho got the best out of his players at Manchester United this season? The answer is a resounding 'No!'
So do we give him another 500 million pounds to put things right? That is the question now facing the board at Old Trafford.
It is clear that Mourinho has split United fans down the middle in the same kind of polarising way that Brexit has divided Britain.
The problem say many who still fervently support Jose is that there is no obvious replacement for the Portuguese manager waiting in the wings.
They will also point to a second placed finish that is easily our best League position since sir Alex Ferguson delivered title No.20 as his parting gift in 2013.
Mourinho has also kept some academy players in his squad and brought the best out of young Jesse Lingard. But that I'm afraid is where the argument for Mourinho's defence ends.
Marcus Rashford and Anthony Martial have lost the confidence they oozed under Louis van Gaal when the Dutchman stylishly signed off with United's 12th FA Cup triumph just 2 years ago. Promising youngsters like Timothy Fosu-Mensah and Andreas Pereira are nowhere to be seen. Farmed out on loan.
CONSISTENCY A PROBLEM
Instead Mourinho has a preference for ready made experience. Cue Alexis Sanchez. But here we also witness a problem. The pint sized player who was one of the biggest and most dynamic stars of the Premier League under Arsene Wenger has failed to perform consistently for his new boss.
Paul Pogba, meanwhile, world class in only a handful of games, appears to have lost favour with the man who should be motivating him to deliver week in week out.
And what about Luke Shaw, the left back we all thought was going to be one of the best in the world for years to come.
Not only has Mourinho failed to put silverware in the trophy cabinet this season, his motivation of players is being called into question, and the brand of football he has served up has at times been soulless and embarrassing to watch. Especially hard to take after a rampaging start when we were blowing teams away 4-0.
It is also hard to understand after a debut season for Mourinho that ended with a cup double. We all celebrated a League Cup win over Southampton and Champions League qualification via the Europa League triumph.
Many thought this was the start of something big. But is the truth a realisation that Mourinho only cashed in on the foundations laid by LVG. And now he's had four transfer windows to make changes he's failed to give us what we anticipated.
Is the truth that Mourinho is obsessed with avoiding defeat at the expense of playing beautiful football, and his stubborn streak prevents him from evolving into a modern, creative coach?
Sir Alex famously had the hairdryer treatment and an iron grip of the dressing room. But we never heard him criticise and embarrass his players in public. Ferguson was the most successful British manager of all time. And still had the energy and emotional intelligence to foster a family spirit at this massive club that had everyone pulling together.
Mourinho in contrast portrays the image of a man who believes he is bigger than the club and likes to remind us on a regular basis that we are lucky to have him.
His post match verdict after the meek surrender to Sevilla in the Champions League alienated many life long supporters. Not to mention the shambolic tactics that made an ordinary Spanish side look good.
In the aftermath of a wretched Cup Final failure to get past the 9-seater bus that Chelsea parked on the pitch at Wembley yesterday, I heard the frustration of many fans inside the stadium who can't take this any more.
'Mourinho Must Go' is the passionate conclusion of huge swathes of the Red Army. Not just borne out of the frustration of watching Stone Age football. But fuelled by the realisation that our biggest rivals Liverpool and Manchester City are both playing a brand of beautiful football that is successful and a joy to watch.
A few years ago I remember declaring that my doomsday scenario was the fear that Pep Guardiola and Jurgen Klopp would end up at City and Liverpool. I remember writing a succession of blogs pleading with the board to sign up Pep at all costs, and to resist the temptation to choose Jose. Much that I admire what Mourinho has achieved in football and there is no doubt he is a hugely capable manager, he has always been an awkward fit at United. Jose has enjoyed some outstanding wins against the top clubs in the League this season. But he has frustrated fans with a tendency to mostly opt for a cautious safety first approach against the big guns.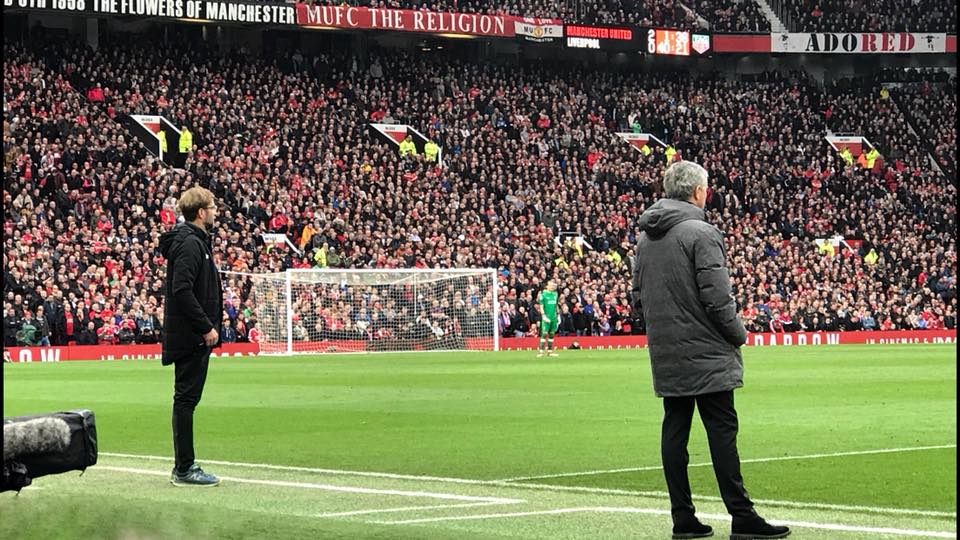 There are those who will say I am wrong and he needs more time. The special one is the right one. Remember how long it took Sir Alex to get things right. But how long are those loyalists prepared to endure the slow painful evolution of a team that all too often does not entertain and suffocates home grown talent. At City and Liverpool there is a clear philosophy and direction that the fans and players buy into. At United there is no such togetherness or route to glory that we can get excited about.
Finishing second in the league this season is a brilliant achievement in the wake of the four previous catastrophes. Yet the reality is that we trailed City by 19 points and an avalanche of goals, we lost the cup final to a poor Chelsea side, and we have been outshone by Liverpool who marched into the Champions League final in swashbuckling style.
Personally I expect City and Liverpool to kick on again next season. Both clubs have coaches with a vision and a direction their players clearly buy into and have benefitted from enormously.
Until our coach can motivate United players in the same unconditional way, we are going to be at risk of further disappointments and even worse.
RASHFORD & MARTIAL MUST STAY
This summer is a massive crossroads in the history of Manchester United Football Club. Do we abandon youth and opt for ready made big money signings? Do we stick to our roots and nurture the homegrown stars? Or do we try to balance doing both, which is where Ferguson excelled?
The incumbent manager has already gone on holiday, leaving the board his wish list for the transfer window. Absolutely, we must always be in the market for the best players in the game. But my fear is that we risk losing our identity if the likes of Martial and Rashford are pushed away in the rush to bring in established stars who are short term fixes.
Martial and Rashford both have the potential to be among the best in the world. It's the job of the coach to ensure they reach their potential. Not let them leave so they can become world beaters elsewhere.
In case you need reminding Mo Salah and Kevin De Bruyne were both released by Chelsea when Mourinho was manager at Stamford Bridge. Please let us not witness a similar scenario with Martial and Rashford.