Quite frankly, the possibility of Chelsea failing to sign John Terry up for one more season at least, in my opinion, is more staggering than sacking Jose Mourinho. Loyalty is only ever one big pay cheque away from being discarded by the majority of professional footballers these days. But love him or hate him, JT has been a colossal leader down at the Bridge.
The Blues are again revealing shades of the embarrassing lack of respect they showed another of their heroes a couple of seasons ago when Frank Lampard was discarded before his sell by date. Calling time on club heroes is never easy and the great managers have always known when to move their legends out of the spotlight.
But surely clubs that make millions in TV money and the globalisation of their brand, thanks to long-serving players like Terry and Lampard, owe them the benefit of the doubt in the twilight of their careers. Not least because their experience and influence is priceless when you are building a new team.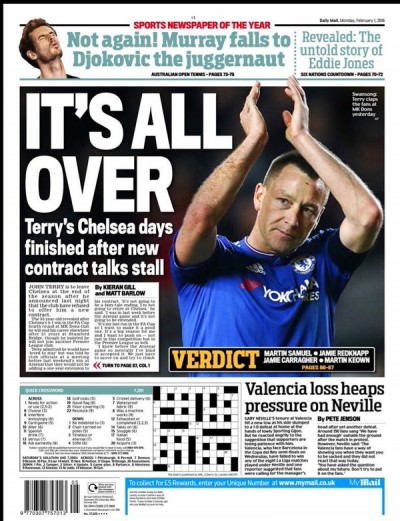 The truth is that the financial men, who control the purse strings, are often just as fickle as the fans, who give players abuse because their knowledge of the game is limited to ill-informed pub banter and failure to recognise talent when it is staring  them in the face.
One of the most popular clips in my company's vast football archive was filmed 23 years ago at a Fans Football Forum hosted by West Ham United, when Harry Redknapp was given abuse by one outspoken regular at Upton Park. The old Iron insisted Lampard junior was wrongly being selected ahead of Scott Canham, a player who be long forgotten were it not for his starring role in our famous YouTube clip.
There are some players who demand respect from their clubs and fans because their loyalty and outstanding service is unquestioned. Take Ryan Giggs for example who has served Manchester United as man and boy for nearly a quarter of a century. There was never any danger of  Manchester United abandoning Giggs at the end of his playing career. Not while Sir Alex Ferguson was in charge.
Consequently, Giggsy played until he was 40 and his subsequent stints as caretaker boss and assistant manager has seen him chalk up a quarter of a century at Old Trafford. On 2nd March it will be the 25th anniversary of his United debut back in 1991.
While certain sections of the media maliciously suggest there's no love lost between the manager and his assistant, the truth is Louis Van Gaal has shown great respect to Giggs. LVG has repeatedly said he's preparing Giggs for the top job. And that brings me to the hottest topic of all for the biggest club in the world.
Who will be manager at Old Trafford next season?
Personally, I find it hard to understand why Giggs is not being taken more seriously as a coach who could take the reigns at Old Trafford. With the world's media heralding Pep Guardiola as the messiah who will arrive at Manchester City in the summer to create a new dynasty to emulate the one he started at Barcelona, it's worth remembering that he was a gamble when he was originally given his big chance.
Guardiola was the manager I desperately wanted to see succeed Van Gaal at United when the time was right. But that of course will never happen now that he's shown his colours and opted for the Etihad. Meantime, the media abuse being served up for Van Gaal is nothing short of scandalous.
We do not have to be rocket scientists to know that for a long spell this season United's football was quite simply boring.  Paul Scholes has said it. Rio Ferdinand has said it. Michael Owen has said it. Just about every pundit on television has said it. But that does not give the media a licence to make up stories because they think they know the solution. And then lambast their target when he refuses to dignify their agenda by playing ball.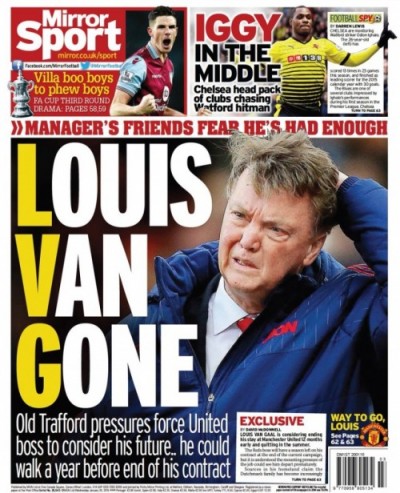 Jose Mourinho was prematurely driven out of his second spell at Chelsea when the media spotlight on his mistakes burnt so brightly that Roman Abramovich pressed the panic button. Now those same media sages have basicaly decided "Mourinho is the only man who can save United from oblivion."
The problem is the media do not really care what the truth is and there are too many who peddle fiction not journalism, in the pursuit of headlines to sell newspapers and hook an audience on radio, television and the web.
Mourinho stories premature
The media mafia decided months ago that Mourinho is destined for Old Trafford. And I'm not saying that won't happen, or that LVG will never get the sack. But the story and the season is still unfolding and it should be allowed to do so without the media having an undue influence on the outcome.
It is crystal clear that the mass media have overstepped the mark more than once by running premature stories about Mourinho and Manchester United.  Equally, it should be obvious that newspapers, radio and TV are all about ratings and profit. And it should also be recognised that far too often,  the pressure the media exert does get managers the sack – because the headlines do mobilise public pressure. That in turn makes more headlines. And that's why most clubs end up stuck in a never ending merrygoround.
My view is don't be surprised if Louis Van Gaal does see out the full three years of his contract. Equally, if United fail to finish in the Top 4 and don't win a Trophy either, the chances are the media and Jose Mourinho will finally get their wish.
Personally I'd like to see my Ryan Giggs get the top job at United when LVG does move on. Something I never imagined 23 years ago when I walked on the hallowed turf with Giggsy after he signed his first boot deal with Reebok.