At the age of 17 when I started out on the road to a career in journalism and broadcasting, had I known that being a successful sportsman would be a shortcut to the best media jobs I may have tried a different route.
Months earlier I was told that I had been watched by a football scout from one of the big two clubs in Manchester. The fact he was from City not United did not tempt me to give up my dream of following in the footsteps of my famous uncle Tony Gubba. But the truth is the scout never gave me any encouragement and the closest I ever got to the Premier League was years later when I was reporting for the Sunday Mirror.
Today we live in a world where ex-footballers, rugby stars and athletes dominate the most glamorous presenter roles in British broadcasting. From Gary Lineker on BBC's Match Of The Day to Alan Brazil on TalkSport, there are many examples of men and women who have gone from sporting hero to broadcast journalist.
Former England hooker Brian Moore combines multiple roles in TV, radio and newspapers – from presenting documentaries on BT Sport to writing an outstanding column in the Daily Telegraph. He is even a successful author. To a lesser extent than Vinny 'Psycho' Jones cashed in on his hardman image in Hollywood, Moore has done extremely well indeed out of his reputation as the 'Pitbull' of English rugby union.
When I was a kid there was another Brian Moore setting standards in broadcasting. Mooro was old school and ITV's hugely successful football commentator and presenter took the long way round to the top when he started out like me as a newspaper journalist. I will never forget the letter of encouragement he sent me when I was a rookie reporter looking for a job. Years later I briefly worked with his son Simon at ITV after progressing from local newspapers and radio to Fleet Street and television.
But in today's celebrity driven world, sporting success is the fast track to the top media jobs.
Twenty years ago, I remember interviewing Moore the rugby hardman on several occasions and he was always good value for a quote. Never did I imagine that the front row bruiser would one day be at the front of the queue of ex-sportsmen taking the best jobs in sports broadcasting and journalism.
Neither did he, I expect, when we filmed him heckling team mate Martin Bayfield as we interviewed him for the official England Grand Slam sports video we produced for the Rugby Football Union in 1995.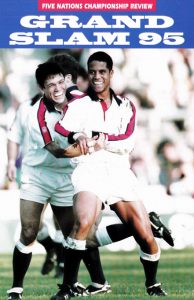 Two decades later both Moore and Bayfield have careers with far more longevity than they could ever imagine on a rugby pitch. Bayfield is arguably the best of the bunch who have made the journey from sporting hero to broadcast journalist.  I have seen him in action at close quarters. As a guest in the BT Sports studio when he was hosting the channel's weekly Rugby magazine show, I witnessed first hand what an immaculate performer he is in a live situation.
Both have come a long way since England's celebration banquet at the London Hilton, where Moore the pitbull mischievously threw nibbles and verbal abuse at his team-mate. Watch the video and you will see that Bayfield's quickwitted response was an early indication that he was perfect for television.
"It obviously wasn't Brian Moore who threw that because it actually came to me," quipped the 6'10 giant who has since starred in a succession of Harry Potter films, playing Robbie Coltrane's body double as the giant Rubeus Hagrid.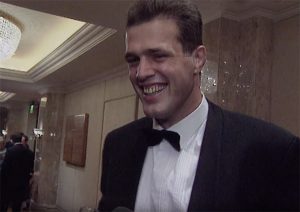 With the upcoming Rugby World Cup less than 12 months away guaranteed to be the second biggest sporting event this country has ever staged, the profile of both Moore and Bayfield is only going to increase. So my advice to you, if you're just starting out and want to work in the sports media, is make the most of any sporting skills you have because sporting success will put your CV in a different league.