OK – now for some World Cup facts and figures.
In the opening 32 matches every country has played twice and it really has been a goal studded tournament.
A staggering total of 94 goals have been scored in the first 32 matches. That's just under 3 goals a game.
The most popular scoreline has been 2-1 . . . unpopular in England's case . . . with no less than nine matches finishing that way. The highest scoring game so far a 5-2 win by France against Switzerland.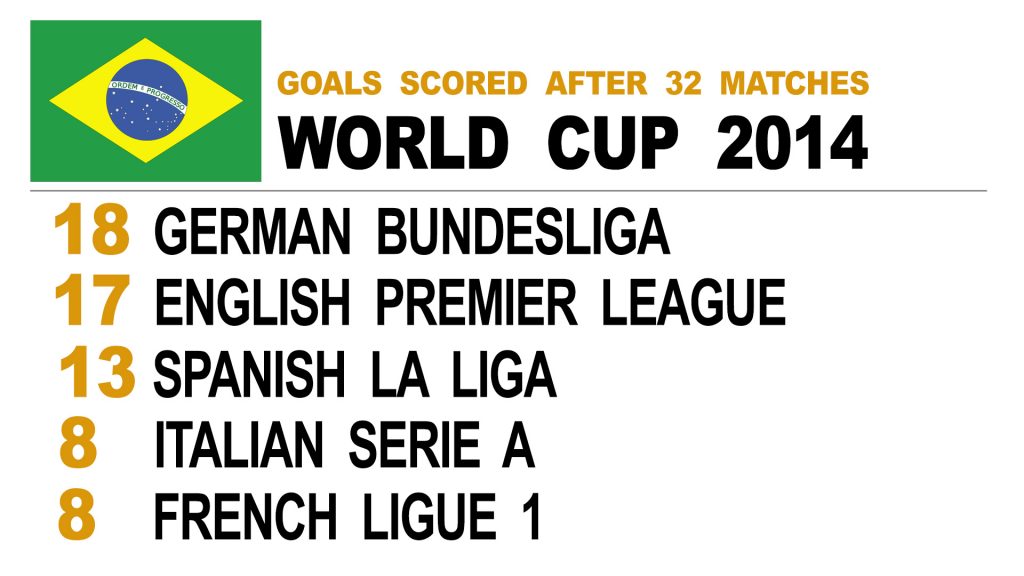 Now then here's some ammunition for that age old argument which is the best League in the world? Top of the this table – is the German Bundesliga – leading the English Premier League by 18 goals to 17 . . . five ahead of the Spanish La Liga 
ALGERIA 4-2 SOUTH KOREA
The Germans League top the goalscoring charts courtesy of the two goals scored by the South Koreans in their 4-2 defeat by Algeria in match 32.
PORTUGAL 2-2 USA
The English Premier League had taken the lead when Nani scored for Portugal in the preceding 2-2 draw against the USA.
ARGENTINA 1-0 IRAN
Messi's dramatic injury time winner for Argentina against Iran puts the Spanish La Liga on 13 goals in third place.
GERMANY 2-2 GHANA
Miroslav Klose's equaliser in Germany's 2-2 draw against Ghana added one for Serie A
BELGIUM 1-0 RUSSIA
Origi's late winner for Belgium against Russia also took the French tally to eight.
NIGERIA 1-0 BOSNIA & HERZOGOVINA
And there was another Premier league goalscorer over the weekend when Stoke City's Peter Odemwinge scored the winner for Nigeria against Bosnia & Herzogovena
 Meantime, a look at the clubs with the most goal scorers also puts the Germans on top.
Bayern Munich out in front with NINE goals.
Manchester United second with SIX goals.
Ahead of Spanish giants Barcelona [FIVE] and Real Madrid [FOUR]
But that of course does not hide the fact we've only seen two English born goalscorers so far . . Daniel Sturridge and Wayne Rooney. England's final chance to add to that tally comes against Costa Rica on Tuesday.