Lord Coe promised from the start that the  legacy of the London Olympics will be to "inspire a generation" – and it was fitting that this was unveiled as the motto for the Games when the final countdown reached 100 days to the opening ceremony on Wednesday.
It was the ideal of providing inspiration – in keeping with Coe's pledge – that shone like a beacon when I visited Britain's synchronised swimmers earlier this week.
While Team GB has high hopes of striking gold in several sports, Britain's sychro team know their commitment to inspiring the next generation is more likely to be successful than winning medals. Not that the talented girls lack ambition. They are aiming for glory by targeting a top six finish, happy in the knowledge that simply taking part in the Games is a huge honour.
The synchronised swimmers take part in the final qualification event at the Aquatic Centre this week – a competition that doubles as an Olympic Test Event – despite already being guaranteed a place as the host nation, because they want to give themselves every chance of success and inspire their fans along the way.
As team members Katie Skelton and Asha Randall both told me after their opening practice session on Monday 'synchronised swimming is being taken a  lot more seriously these days'.
synchro girls looking good . . . and winning over new fans
Watching the GB girls in action you can see why their sport is winning respect because there is an extremely high level of skill and team-work  at the top level.
It was also pleasing to see public support for the GB kit designed by Stella McCartney from the Japanese team who wore the outfits at the official practice.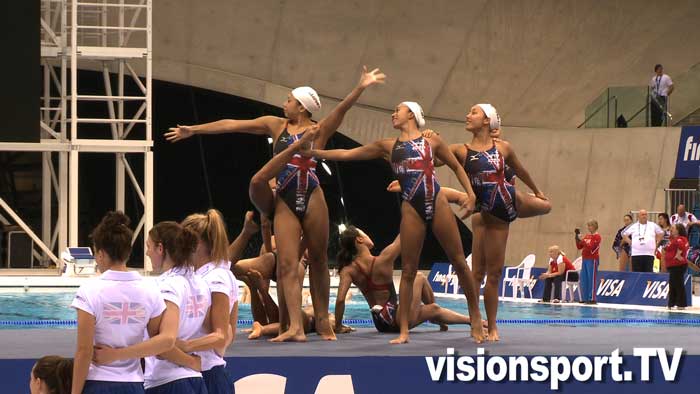 Amusingly, the switch of costumes fooled tabloid newspaper the Daily Mail and international photographic agency Getty Images, who wrongly published images of the Japanese girls and captioned them as the British team.