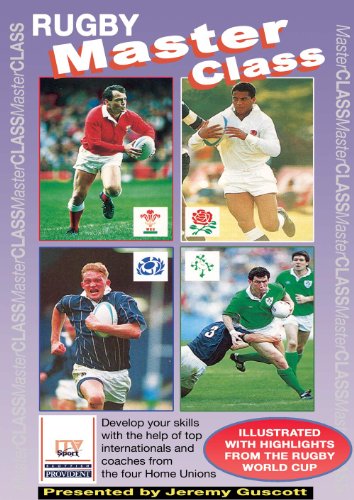 RUGBY MASTERCLASS is a revolutionary rugby coaching programme that is entertaining, fast moving, fun to watch and packed with explosive action.
Presented by Lions star Jeremy Guscott and featuring a team of top internationals and coaches from the four Home Unions, the result is a stylish approach to tackling the modern game.
Unlike any programme that has gone before it, Rugby Master Class emphasises that rugby training should be fun – and with the help of top players on location and hard-hitting action from the World Cup it represents an exciting breakthrough in promoting the game.
An introdution to the basic skills of rugby union, the aim is to build a complete picture of the modern game for the budding player and provide the understanding essential to excel. Every step of the way is graphically illustrated – from running and passing to tackling, rucking and mauling.
Coaches will find it invaluable for developing their philosophy and for the many useful drills demonstrated.
Featuring Martin Bayfield, Jason Leonard, Dewi Morris, Ben Clarke, Ieuan Evans, Rupert Moon, Doddie Weir, Peter Wright, Eric Elwood, Ciaran Clarke and many more.