Description
This exclusive Man Utd DVD features the story of the world's oldest MANCHESTER UNITED Supporters' Club . . . based 2,000 miles from Old Trafford on the Mediterranean island of Malta.
For these football fans, and many like them, their religion is Manchester United.
Featuring the Class of 92 and a star-studded cast of United heroes.  Cast includes Bryan Robson, Paddy Crerand, Denis Law, Alex Stepney, Sammy McIlroy and Sir Alex Ferguson. This unique documentary will fascinate football fans worldwide who know how it feels to love and worship a football team.
It is a film that every Manchester United fan must watch to find out what triggered the fanatical global fanbase that has turned the Red Devils into the best supported football club on the planet.
Filmmaker John Gubba picks up the story before the tragedy of the Munich Air Disaster in 1958 when founder John Calleja befriended the legendary Matt Busby. After surviving the crash that killed eight of his Busby Babes, the manager encouraged the young fan from Malta to set up the Supporters Club. Sixty years later MUSC Malta has earned iconic status with fans worldwide.
In 2019 the Maltese supporters celebrated their 60th anniversary. This film includes exclusive interviews, rare archive footage and access all areas behind the scenes coverage of the biggest events in the Supporters Club's rich history.
Watch the trailer now:
From Manchester United's first ever visit in 1961 and the match that kicked off United's glorious first ever European Cup triumph in 68, to a year of activities that began with a team of Manchester United All Stars playing in a charity match, this feature length documentary is a rollercoaster of emotion.
Wes Brown, Ronnie Johnsen, Raymond Van Der Gauw, Ben Thornley, Keith Gillespie, Danny Webber, Russel Beardsmore, Arthur Albiston, Chris Casper, Lee Martin, Jonathan Greening, Nick Culkin joined McIlroy, Rod Thornley and manager Jimmy Greenhoff in Malta to play in the match, celebrating Valletta 2018 as the European Capital of Culture.
A star studded cast lines up at Hotel Football for a Gala Dinner hosted by Ryan Giggs, Gary Neville and Paul Scholes. And Nicky Butt joins Giggs and Neville at a final star-studded celebration in Malta in June 2019 attended by Busby's successor Wilf McGuinness.
Rare archive includes David Beckham's visit to Malta in 1999 when he was one of the guests of honour who accompanied the Premier League, Champions League and FA Cup trophies to Malta just hours after United won their glorious Treble.
Also featured is Manchester United's 1948 FA Cup Final winning goalkeeper Jack Crompton and scenes from the Second World War when Malta was the most bombed country on the planet.
This is a cinematic documentary about Manchester United the likes of which you have never seen before. With a rousing sound track and an engaging cast of Malta's most famous fans. From founder Calleja and iconic fan Joe Glanville – who got to spend quality time with the Holy Trinity of George Best, Denis Law and Sir Bobby Charlton – to the current President Joseph Tedesco, who has a starring role during the 60th anniversary celebrations.
There are also appearances and contributions in this much talked about Man Utd DVD from a galaxy of fans and supporters club representatives from around the world. Contributors include well-known author Thomas Clare from Houston, Alex Nield and his father Jon, Steve Donoghue, Tony Easom, Big Lily's Keith Norris, Duncan Drasdo and Ian Stirling of the Manchester United Supporters Trust, and Peter Wood, chairman of the Edinburgh branch of the Manchester United Supporters Club.
RunningTime approx. 112 minutes
Also available to stream worldwide at https://vimeo.com/ondemand/malta60years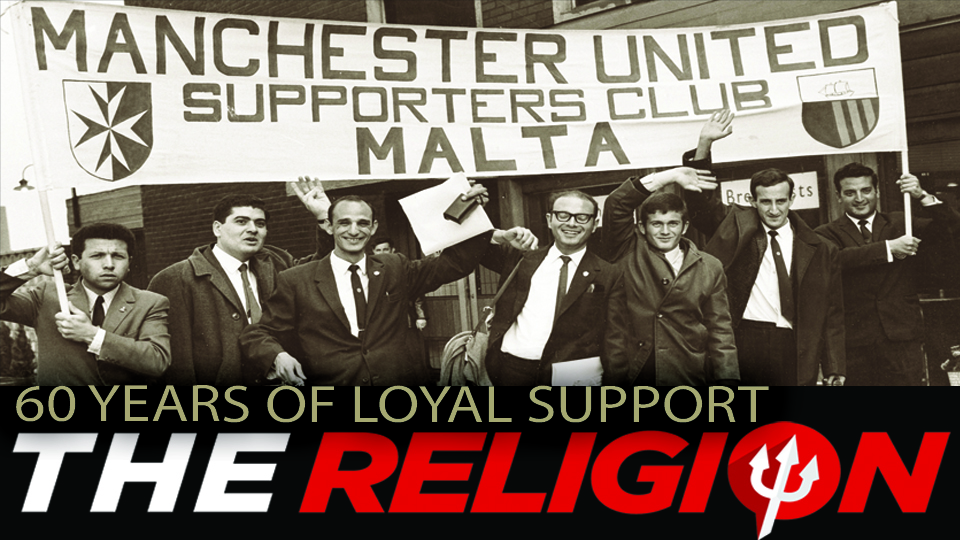 How A Manchester United Supporters Club started English Football's Global Domination – review by the Daily Mail's Joe Bernstein