Today we say farewell to much-loved Norbert Peter Stiles MBE, when one of Manchester's greatest ever gladiators makes his last journey to Old Trafford on the way to his final resting place.

Football fans around the world are silently paying our respects to one of Manchester's finest ever servants. The kid from Collyhurst did not resemble a typical footballer. But the pint sized, shortsighted hardman, with the toothless grin and the heart of a lion damned well did us proud.

A champion of England, Europe and the World, Nobby Stiles gave absolutely everything on a football pitch. And he kept on giving until he returned to Manchester United at the end of the eighties as a youth coach who did amazing work with United's academy youngsters including the Class of 92.
For his legion of devoted fans from Manchester to Middlesbrough and the world over, it's disappointing he was never knighted.

Largely forgotten by the game he served so loyally as he fought a lonely battle against bad health in his final years, he will forever be in the hearts of football fans worldwide.

For club and country he won the game's top honours. And England will always be in his debt, because without our Nobby we may never have been crowned World champions in 1966.

Two years later of course our pocket sized warrior, was running round Wembley again, this time with the European Cup. It was the night Matt Busby led Manchester United to the Holy Grail of becoming the competition's first English winners.

On the books at United as an apprentice before the Munich air crash of 1958, Nobby missed the 1963 FA Cup Final through injury. He was a key member of the United side that was crowned league champions in both 1965 and 1967.
Much more than a destroyer
He entered football folklore when he dominated Benfica's Eusebio in that 1968 European Cup triumph . . . just as he'd silenced Portugal's star man in the '66 World Cup.

While partnering Bill Foulkes in the heart of United's defence, Nobby proved his versatility as a defensive midfielder for England. And he was much more than a destroyer.

As Denis Law summed it up "He was such a popular guy in the dressing room. Everyone knew Nobby would be there when the going got tough on the pitch, but you shouldn't underestimate what a good footballer he was too.

"I played against him in training and for Scotland against England and all I can say is I'm glad he was my teammate more often than my opponent."

Ben Thornley, who was coached by Nobby along with the likes of Beckham, Giggs, Scholes, Butt and the Neville brothers, said: "It was an honour to be tutored in my early years at Man Utd by, not only a colossus for both club and country, but a gentleman of the highest order."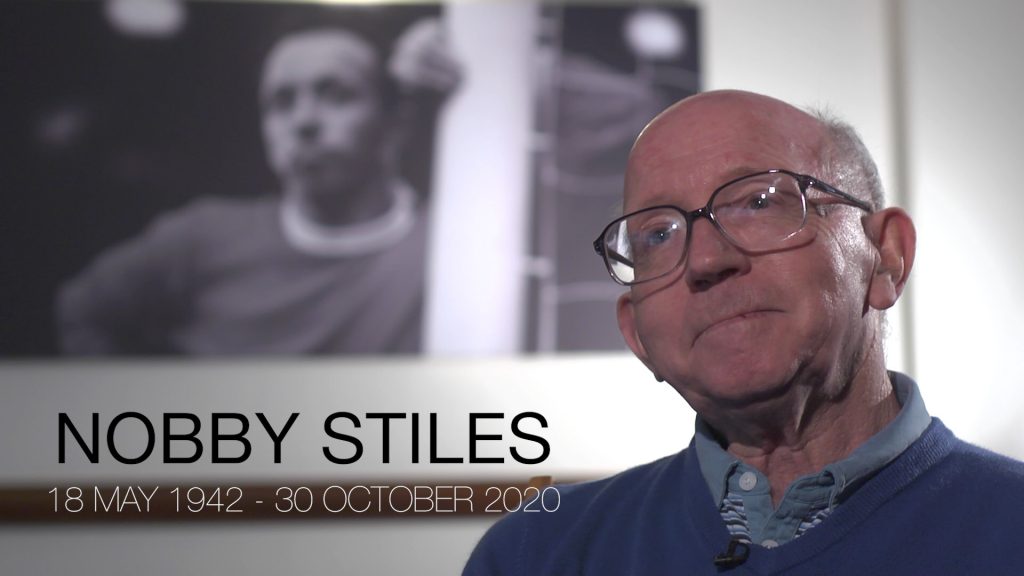 Each of the Class of 92 have added their own glowing tributes to a football man who was cherished and respected by everyone at Manchester United.

Nobby went on to chalk up 395 appearance for the Red Devils, scoring 19 goals before he was sold to Middlesbrough for £20,000 in 1971.

Two years later, he became a player-coach at Preston when his former United and England team mate Bobby Charlton was manager. After briefly taking over as caretaker when Charlton resigned, he left in support of his old pal.

In 1977 Nobby returned to Deepdale for a four year stint as manager. Then in 1981 he went to Canada where he coached Vancouver Whitecaps for three years.

A brief spell as manager of West Brom followed. And then in 1989 he finally returned to Od Trafford as a youth team coach, where he played a big role in developing the youngsters, including our hugely talented Class of 92 stars.
Giant of the game
It is impossible to overestimate just how much Nobby has given to United, as a player, a coach and a fan. His role as a coach at United was over in 1993. 

It is tragic that years later, he sadly ended up selling his medals in 2010 to raise money for his family. He was already struggling with dementia, a condition almost certainly caused by playing football in the days when heading the ball was like taking a heavy punch to the brain.

Since we heard the sad news of Nobby's passing I've watched back my final interview with him dozens of times. Knowing that he was already ravaged by dementia when we chatted back in 2013, it's amazing that he still had that fabulous smile.

It was Nobby's last ever filmed interview. As well as that cheeky smile, he still had a glint in his eye. And an infectious character that made him both popular, and a fearsome opponent, in his playing days. 

He was only 5 foot 6, but on the football pitch Nobby Stiles was a giant of the game. RIP our hero. Your faithful fans will always love you

BY JOHN GUBBA