When Michael Knighton agreed to buy Manchester United for just 10 million pounds in 1989 he had the money in place to take control of the club for several times that amount, because he'd valued the club at a minimum of 150 MILLION.

The truth is that Martin Edwards thought he was being paid far more than his shares were worth when he shook hands with the new chairman-elect at a fraction of the club's real value.
History has more than proved that Knighton was on the ball with his golden vision of the future. His confidence was enshrined in a blueprint which convinced the banks to back his ambitious pitch to buy Manchester United.
For 62 days, the chairman elect gave United supporters a glimpse of how he intended to operate when he handed Alex Ferguson an open cheque book to go and sign Gary Pallister from Middlesbrough.
Edwards had baulked at paying any more than 1.8 million for the big defender. But Knighton's green light meant the deal was done at 2.3M, and Fergie had acquired a vital piece of the jigsaw, which a year later resulted in him winning his first trophy for United.

"You're right. I did say: 'Alex go out and buy that player, whatever it costs.' I wanted to bridge the gap between the boardroom and the terraces and show people I'm a football fan first, and businessman second, " recalled Knighton, when I met him this week to film an exclusive interview and discuss his blueprint for the future.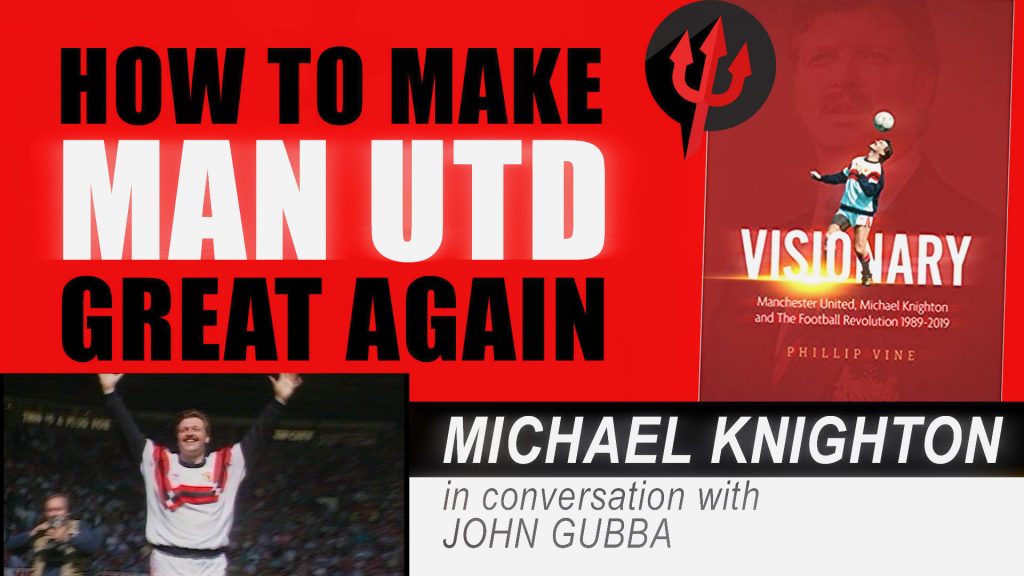 As a Manchester United fan, much of what I heard was music to my ears, because here is a passionate football fan who knows what supporters want.
The great grandson of an FA Cup winner with Sheffield Wednesday, his own career was cut short by injury when he was an apprentice at Coventry City. But he still retains an undying love for the game.
Back in 1989, with crowds dipping below 20,000 and lacking the funds to make essential ground improvements, this cock-sure 37-year-old businessman astonished Edwards by presenting him with a 20 million pound deal that included re-building the Stretford End. And promised to increase revenues beyond all previous predictions.
The tragedy is that Knighton was deflected from completing his takeover by a hostile media – led by the jealousy of Robert Maxwell and his Mirror Group empire. Instead, Knighton was persuaded to trade in his ironclad agreement to buy the club in return for a place on the board. A position he held for the next three years.

Crucially, he was also promised the club would implement his blueprint to turn Manchester United into the world's biggest sporting brand. And the rest as they say is history.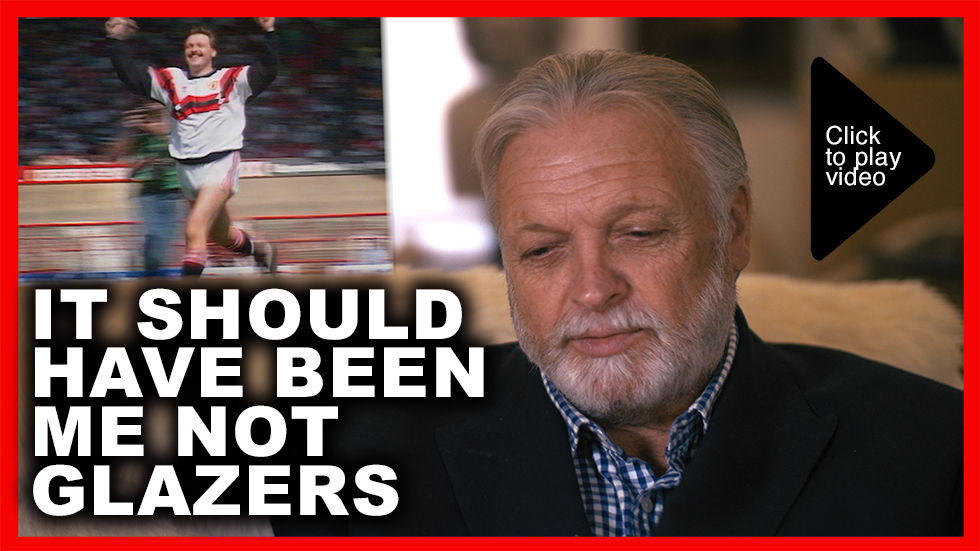 Backed by the new riches that transformed the football club's commercial footprint into a global juggernaut, Ferguson delivered trophy after trophy and established a dynasty that made him English football's greatest ever manager.
Three decades later the football landscape has changed beyond all recognition.It is believed there's an offer on the table from the Saudis to buy Manchester United for a sum in the region of FOUR BILLION.
True to form, Michael Knighton believes the world's most famous football club is still being undervalued.

"If I owned the football club today, I would not sell for 100 BILLION," says the charismatic entrepreneur, who has drawn up a new blueprint which he believes would transform Manchester United to a level beyond every fans' wildest dreams.
NEW BLUEPRINT
Knighton says he's amazed that the biggest clubs have failed to maximise their true potential. And he wants to put his new blueprint to the test.

The difference is that this time around, the transformation of football into a billionaires' playground has priced him out of the market for owning a club outright.
So he's looking for the right club to pay him to deliver the goods.
If he doesn't receive an offer to implement his plan at Old Trafford, he's open to doing business elsewhere. Possibly in China, where Knighton believes the sky's the limit, because he's convinced this proud nation is destined to conquer football.
It's a view that I personally share, having spent time in China examining the game from grassroots upwards.
Meantime, Knighton believes the Glazers owe it to the fans to make United great again or sell up and say goodbye.
"It's not just about the business model, you've got to have the right people in place, source the players and go and get them, and stop pussy-footing about."
While giving the Glazers credit for spending one billion pounds on transfers, Knighton is critical of how the owners have allowed the club to fall behind arch rivals Liverpool.
"They've lost their way again, they've almost moved back to where they were pre 1989,' is the former Manchester United director's damning verdict on how the Glazers have overseen the decline of the club's fortunes on the pitch.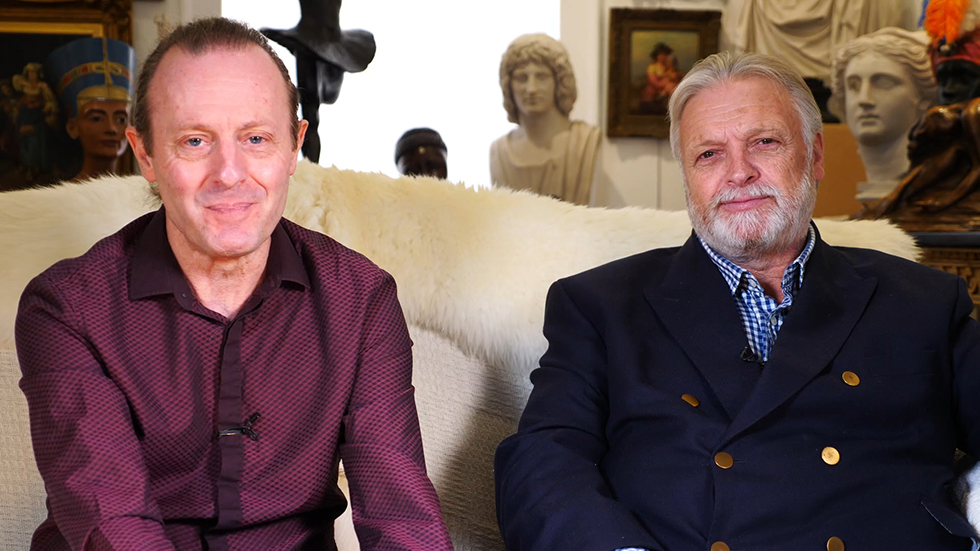 For my full interview with Michael Knighton please go to http://youtube.com/manutdthereligion and watch the fascinating 48 minute video that gives a unique insight into the past, and forthright views of the present and the future of Manchester United.
We all know that things are not right at Old Trafford and I'm sure the Glazers would love to see our football club get back to winning ways, almost as much as the fans do, because that makes their assets ever more valuable.
In my humble opinion, former chairman-elect Michael Knighton has earned the right to have his say when be concludes:
"If it doesn't break your heart to see what's happening down the M62 motorway, you're not really a Manchester United fan. I mean it's as simple as that. You should be losing your sleep over this, to finish 33 points behind the other Reds in the red side of Liverpool.
"So get your act together, sort it out or wave bye bye."

I do hope the owners are listening and if they want to share their own vision for the club with the fans, I'm available to film their response anytime they choose.