Last month I appeared on a global news channel to discuss the problem of racism in football – and my fear is that this stain on our society is not going away any time soon because we live in an increasingly confrontational world.
What used to be healthy banter has evolved from fierce rivalry to a malicious hatred between followers of rival clubs. Sometimes players even find themselves on the end of vile abuse from their own fans.
High profile players like Raheem Sterling, Danny Rose, Mo Salah and Paul Pogba have all been the subject of racist abuse this season. The truth is they are easy targets because of the colour of their skin and the clubs they play for. But this is a problem right across Europe not just the Premier League.
Sterling, Rose and Callum Hudson-Odoi were all subjected to monkey noises from the Montenegro crowd at England's Euro 2020 qualifying match in February.
When 19 year old Moise Kean scored for Juventus against Cagliari last month, he was subjected to a torrent of racist abuse.
The tragedy is that the list is endless. 
Racism and hatred are two very different things but I believe the resurgence of racist abuse at football stadiums has been accelerated by hatred fuelled by both social and mainstream media
It is a world of conflict magnified by media organisations and influencers valuing click bait above all and in 2019 the painful truth is that hate and confrontation sells.
Whether it is my fellow Manchester United fans expressing their hatred for arch enemy Liverpool or vice versa, Italians admitting their inherent racism towards black players, or the sectarian divide that still overshadows the fierce rivalry between Celtic and Glasgow Rangers, there is conflict everywhere we look.
This is not the healthy rivalry that sport has relied on down the ages for the betterment of the sport, but a genuine hatred that crosses the line because it is destructive and divisive.
In a world where we have a blatantly racist President of the United States and a Brexit crisis partly fuelled by blaming immigrants for the demise of Great Britain, it is a small step for the obsession with conflict to degenerate into a new wave of racism in football.

That is what I believe we are now witnessing right across Europe.
Here in England I was hugely encouraged when our football writers voted Sterling the 2019 FWA Footballer of the Year. It was a powerful statement for the good of the game because it was a vote of confidence not just for Sterling's brilliance on the football pitch this season.
It was recognition for the Manchester City and England star's vocal stand against racism in football.
Sterling has bravely taken the lead by repeatedly speaking out on the subject of racism, and as a consequence it will be no surprise if he finds himself on the receiving end of even more abuse in the future.
It is particularly courageous of Sterling and even more significant when you consider how certain elements of the media have previously tarnished his name in recent times with personal attacks on his character as much as his reputation as a footballer.
On many occasions Sterling's image has been portrayed as a greedy footballer with no gratitude for privileges he enjoys or the chance he was given by his former club Liverpool. His wealth has been a target for the critics who ignored his backstory and how he has overcome the handicap of extreme poverty to make a success of his life.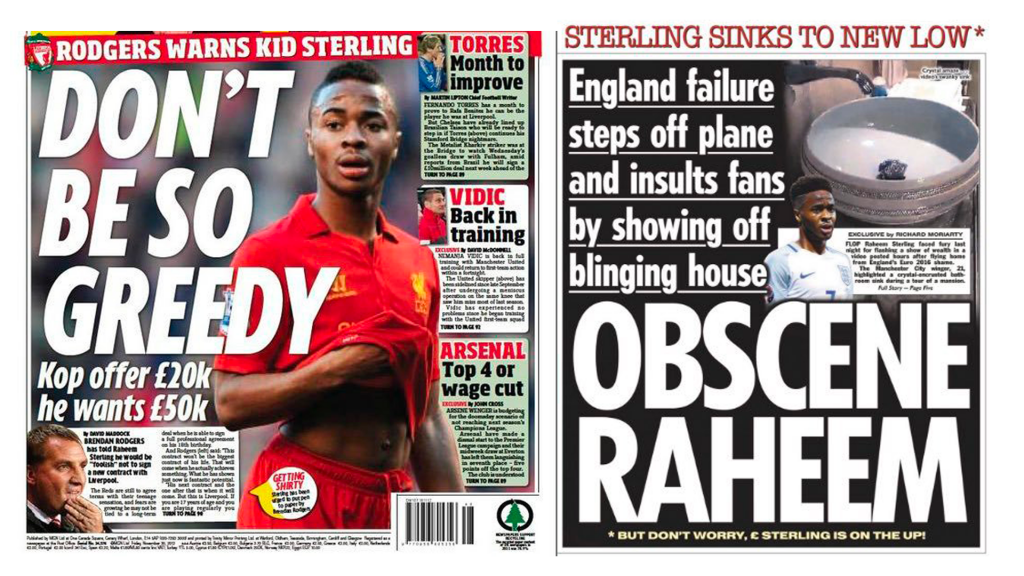 The more successful he has been at City, the more abuse he attracted when he went through a barren spell with England in the summer that saw many calling for Gareth Southgate to drop him from his World Cup starting eleven.
Only now – after years of abuse by the media as well as from racists in the stadiums – is Sterling beginning to fully earn the recognition he deserves.

Pogba on the other hand is suffering the backlash of Manchester United hitting what feels like rock bottom six years after Sir Alex Ferguson retired. While many will say that the French World Cup winner's criticism is justified, because he has failed to deliver and sometimes looks like he is not trying, there is undoubtedly a racist element to some of the abuse he has received.

Mo Salah, meantime, has been abused for being the world's most prolific moslem footballer. His former club Chelsea were forced to make a public apology days before they faced Liverpool last month, after a handful of fans were guilty of what the Merseysiders described as "vile discriminatory chants" that were "dangerous and disturbing".

Sadly, I do not see an end to the racism that surrounds us in the immediate future. Not just in football but in every day life. But we must continue to strive to beat this curse and we can start by learning to respect our rivals.

Respect and education are the two words I will always underline when talking about this subject. Unless we tackle the issue head on we will never kick our racism and I for one will never give up the fight.

– JOHN GUBBA