Made in Ireland. Born in Scotland. Adopted by Manchester. There is only one Paddy Crerand. And there is no former player who is a bigger Manchester United fan than one of the most stylish midfield stars ever to wear the famous red shirt.
Eighty years old this week, the kid from the Gorbals is a Red Devil to his core in every sense of the word. As an ex-player, as a pundit and as a superfan, he is loved by anyone who lives and breathes Manchester United.
Born on 19 February 1939, Paddy played in the famous green and white hoops of his local club Celtic for six years before he signed for United in 1963. He was signed by Matt Busby on the fifth anniversary of the Munich Air Disaster –  13 days short of his 24th birthday. 
It was the start of a love affair with the world's most famous football club that has earned Paddy a unique place in the history of Manchester United.

At the heart of the famous European Cup winning team of 1968, Paddy had the majestic passing ability of a Paul Scholes blended with the uncompromising steel of a Roy Keane.  Paddy was a midfield genius not to be messed with.
While the Holy Trinity of Best, Law and Charlton were the shining stars of the 60s, Crerand was another priceless jewell in a team of all-stars. He was the glue that held this magnificent side together.

An FA Cup winner in 1963, he added two League championship medals in 1965 and 1967 before conquering Europe. He was also a Scottish international inducted into Scotland's Hall of Fame at Hampden Park.

But the reason Paddy is so popular is that he is a man of the people. I have never met a former football player who gives so much time to speaking with ordinary fans at any time of day. I remember once taking nearly an hour to walk Paddy to a restaurant only a few minutes away from where we were staying in Glasgow one evening, because he kept stopping to chat about football with people he had never met.
Loved by players and fans alike for his unconditional support for the club whose shirt he wore with such pride and distinction, there is no more passionate pundit. On MUTV, as co-commentator to the immaculate Stewart Gardner, who also hosts the fabulous Paddy Crerand Show, his contributions are legendary. 
In my humble opinion he is still one of the biggest reasons many fans around the world subscribe to the channel.
Just like he was on the pitch, Paddy can never be ignored. On occasions his deliciously passionate rants –  when invited to speak on national radio and other channels – have gone viral, earning him the unofficial title of Manchester United's No.1 cheerleader.  I'll never forget, when I was making a documentary about Paddy's life story a few years ago, how former skipper Patrice Evra spoke admiringly about the players' love for his bias in their favour.
What is less well-known is that Paddy's life has been touched by tragedy.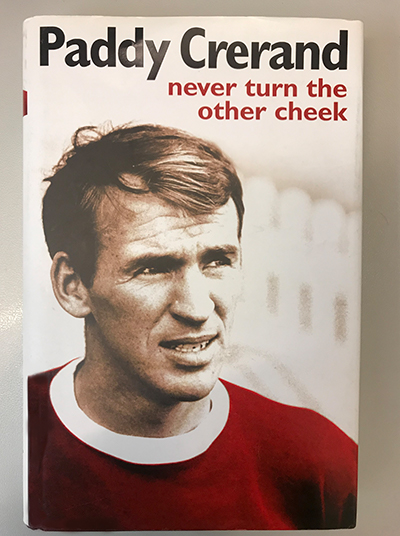 His father was killed by a German blitz during World War 2 a few hours after his sister was born. He was just two years old at the time. When I read his autobiography 'Never Turn The Other Cheek' I was moved by the fact Paddy had never found his father's grave. So I tracked it down for him, and when we filmed the discovery while shooting his documentary it was truly emotional.

When they were still school kids his brother died of an illness and is buried in the cemetery next to Celtic Park. Sadly we were unable to find that grave because the burial took place in an unmarked spot and there are no records.

It was a tough upbringing in the Gorbals in the 40s and 50s and it is no surprise that Paddy became a hardman on the football pitch. He is also fiercely proud of his Irish roots and when he made his international debut for Scotland against the Republic of Ireland he confused team-mates by singing the Irish national anthem.
During the Troubles in Northern Ireland Crerand became involved in Irish politics and forged a friendship with Sinn Fein's Gerry Adams and the late Martin McGuinness. When I was shooting Paddy's documentary, Ireland's former Prime Minister Bertie Ahern was all too pleased to contribute and we filmed the two men meeting in Dublin.

I have known Paddy now for more than a decade and it has been a privilege to get to know one of the heroes I watched from the Stretford End when I was growing up. Confrontational and argumentative one minute, but compassionate and displaying a heart of gold the next.
As I said at the beginning, there is only one Paddy Crerand – and many will say Thank God for that! But the truth is we are lucky to have him.

Happy birthday Paddy and congratulations on celebrating your 80th birthday.