Twenty three years ago when my company exclusively filmed a Fans Forum hosted by West Ham United we recorded one of the most prophetic quotes ever delivered by a football manager.
Harry Redknapp's rant when he was accused of nepotism by a disgruntled Hammers fan who thought he was unfairly favouring his nephew Frank Lampard is pure gold.
It struck a cord with Lampard who many years later insisted Sky Sports licence the clip for inclusion in a documentary about his spectacularly successful career.
It was tweeted by his old Hammers team-mate Rio Ferdinand when it initially went viral on YouTube.
And it is still our most frequently licensed clip by broadcasters and producers documenting the career of the former Chelsea and England star now proving his worth as a manager at Derby County.
But does that give anyone the right to re-publish our video without our approval, acknowledgement or recompense because it has appeared in the public domain?
The answer of course is 'No' and that is why lawmakers are seeking to introduce Article 13 to protect filmmakers, content creators and other rights owners. The most effective way to do this is still being debated. But unless platforms like YouTube protect and reimburse creators for fair use of our work it is only right that they are legislated against.
Recently we have experienced numerous cases of the unlicensed use of our material both by broadcasters and single users re-publishing on social media.
While Sky Sports have always contacted us directly to obtain a licence, BT Sport poached our material and broadcast it without asking because they claimed it was "in the public domain" and they did not want to pay a licence fee.
When I sent them a bill and threatened to sue, BT Sport paid the licence fee within 48 hours.
Of course I have no problem with anyone sharing the video posted on our youTube channel by posting the URL. By sharing the source this is how our content goes viral and that enables us to benefit from the publicity of our brand, our content and our services. This often leads to our content being licensed by other broadcasters or producers.
Where we draw the line is when someone downloads our material and then re-posts this content under their own banner or identity. This is blatant copyright theft and deprives us of both revenue and exposure.
We currently have an issue with Linkedin and one of their users who has done exactly that. In less than a week our video has chalked up over 140K views via an illegal posting. All the Linkedin user had to do was embed our URL in his post rather than unlawfully download and re upload it to the platform as his own video.
By failing to deal with this more than 72 hours after we registered a breach of copyright notice, Linkedin have demonstrated exactly why we need a version of Article 13 that adequately protects creators and rights owners.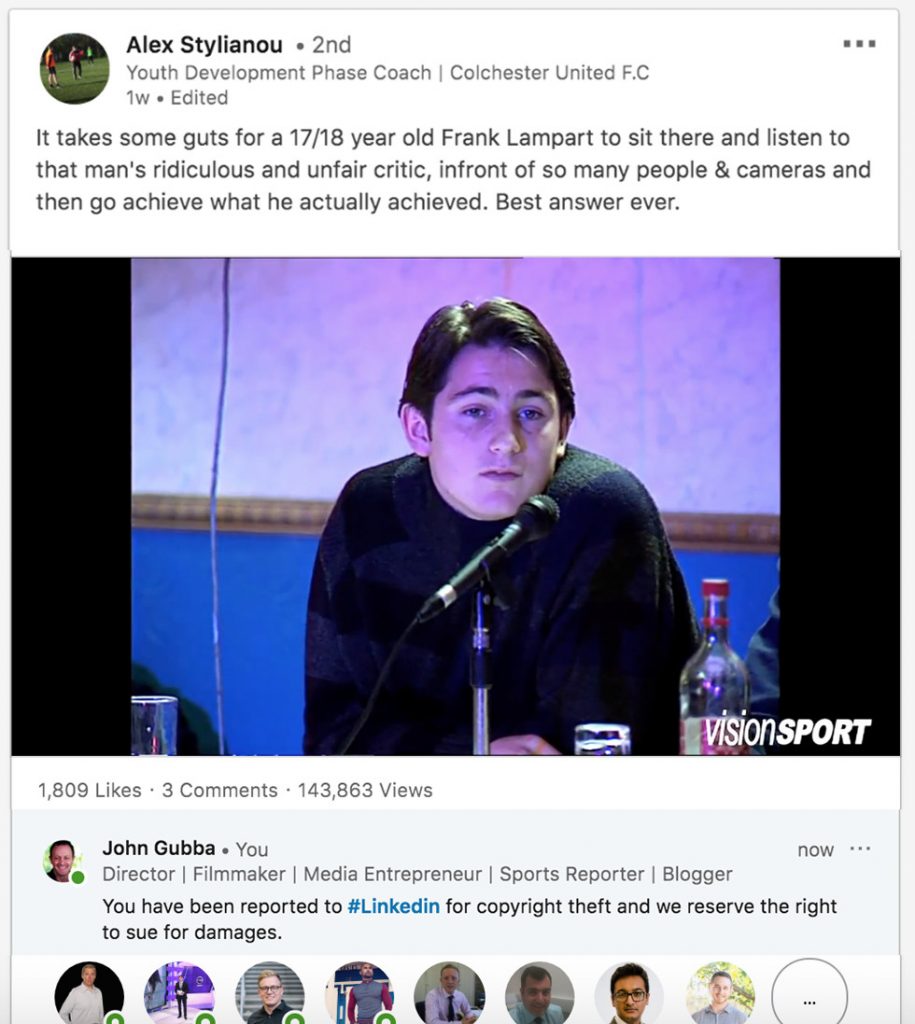 Meantime, back to the Fans Forum and that delicious rant by Redknapp that is still attracting so much comment and reaction from football fans worldwide.
The venue was East London back in 1996. Frank Lampard was just 18 years old. Harry Redknapp was his manager at West Ham United. And the Hammers boss was adamant that Frank would go to the very top when a disgruntled fan told him Lampard was not as good at Scott Canham or Matt Holland.
"I did not want to say this in front of him. But he will go right to the very top. Right to the very top," insisted Redknapp.
"There ain't no doubt about that in my opinion. Because he's got everything that's needed to become a top class midfield player. His attitude is first class. he's got strength. He can play. he can pass it. And he can score goals."
When challenged by the fan who criticised him for letting Scot Canham and Matt Holland leave the club, Harry repeated his conviction when he said: "I'm telling you I couldn't feel more strong how I feel about him."
While Lampard looked on embarrassed by the criticism, chief executive Peter Storrie weighed in to support his manager saying: "It's not just Harry's opinion. I don't know if many of you knew but during the European champions in the summer England decided to take several young players from all over the country to various training sessions.
"When Terry Venables came to the ground to speak to Harry and I not too long ago, he said there were two outstanding youngsters of all the ones he had. That was Frank and Rio (Ferdinand). "
For the avoidance of doubt, this was not a press conference. This was a private event staged with the express purpose of my company making a film.
It was attended by West Ham United fans, who were invited to quiz a panel of guests including Redknapp, Storrie, Lampard and Iain Dowie.
It would be great if we could stage more events like this in the modern day. While social media is now the established melting pot for banter between fans, players and officials, you can't beat the drama of face to face debate.