Whatever happens when England meet Croatia in the semi-finals of FIFA Word Cup 2018, this has been such a fabulous tournament that no supporter of the Three Lions will ever forget . . . because it has united the nation.
The fans, the players, the management, football fans, non-football fans, pundits, the media and everyone who is English are finally all pulling together. And that is the genius of what Gareth Southgate has achieved.
England fans have spent the past week singing "It's Coming Home" and, with or without the famous trophy that majestically gleams just like the original Jules Rimet, there is an enormous sense of pride and achievement.
Even if England's World Cup Glorymen go no further, this has been a watershed tournament for our national team. This exciting young squad can truly hold its head high for the first time in 28 years and has remarkably fuelled dreams of emulating our Wembley heroes of 1966.
What I love most about our success in reaching the Final Four has been the reawakening of our pride in our nation team and the harmony orchestrated by everyone's new favourite role model, the man in the waistcoat.
https://twitter.com/itvfootball/status/1016725125301981191
Southgate knows more than most the years of hurt we have endured since Bobby Moore lifted the World Cup at Wembley 52 years ago. He felt the pain and the ridicule at Euro 96 when he infamously missed a penalty in our semi-final shootout against the Germans. He was also in the squad at the 1998 World Cup when England again departed on penalties, this time against Argentina.
When he became manager two years ago in the wake of two shambolic tournaments under Roy Hodgson – our worst ever World Cup in 2014, followed by humiliation by Iceland at the Euros – expectations were low.
A month ago, for the first time in living memory, England's football team arrived at a World Cup without unrealistic demands from fans and media alike. Few people thought we would even make it to the quarter-finals. But heroic wins in the knockout stages against Colombia and Sweden have left England in the Final Four.
We have seen the emergence of the youngest and most inexperienced squad at this World Cup. This group of 23 players – average age 26 – have been prepared so beautifully by Southgate and his coaching staff that he has made the impossible job look simple. It has been a thrilling journey. And we have watched in awe as England have grown into this tournament like a pack of young Lions with a hunger and a taste for glory.
Harry Kane, Jesse Lingard, Dele Alli, Jordan Pickford, Harry Maguire, John Stones, Jordan Henderson, Kieran Trippier have all had magical moments to cherish and headlines to match. Equally, every other member of the squad have played their part, whether in the matches, in training or behind the scenes.
It's the biggest game for @England in 28 years! Can the fairy tale continue?
England v Croatia. Wednesday 6pm @ITV @itvfootball #ENGCRO #WorldCup pic.twitter.com/6LlZY2c53L

— ITV (@ITV) July 10, 2018
What has been so impressive has been the unbreakable club spirit instilled in this squad. Gone are the divisions talked about at previous tournament where rivals from the Premier League's elite seemed unable to forget their club loyalties and played like strangers. Gone are the cliques that divided the likes of Gerrard, Lampard, Ferdinand, Terry, Rooney.
Whether you prefer Raheem Sterling or Marcus Rashford, Ashley Young or Danny Rose,  there is a sense of unity within the squad that makes England a formidable force, the likes of which we have rarely seen we last reached the world Cup semi-finals under Bobby Robson in 1990.
In Russia we have a bunch of lads playing together who look like mates. Rivals from Liverpool, Manchester United, Tottenham, Manchester City, Leicester City and the rest working in harmony. It sounds simple. But that is what makes this England squad special.
Southgate has had the strength of character to do the job his way and on his terms. It began when he eased out the old guard including our record breaking goalscorer Wayne Rooney and put his trust in the new kids on the block.
He has done well to ignore the clamour for Sterling to be dropped when the Manchester City star has failed to put the ball in the net but clearly adds so much more to the team. He has made fools of those who questioned his belief in Young, one of the oldest members of his squad who is a model professional and brings much more than experience and know how to this England team.
The way Young and Dele Alli have switched from hostile club rivals to solid team mates epitomises the maturity of this young and passionate team, orchestrated by the calming influence of Southgate. When they clashed at Old Trafford in October Alli made a barbed reference to Young's age with his "zimmer frame" quip. Young, 33 this week, retorted by telling his rival to "let me know when you win the Premier League"
But the two men publicly made up before the World Cup kicked off and have been best of friends during the tournament, laughing off their conflict magnified by the media spotlight and the intensity of the Premier League.
Young summed up the mood in the camp when he explained at an England media conference: "A lot of things have been said by previous players but here, everybody gets on with everyone. Everyone is pulling in the same direction.
"Obviously, there is club rivalry but when you are here with England, you are representing your country.
"It is an honour for myself, for the whole team and squad. The rivalries get put to bed. They are put aside. You are fighting together as one team.
"The team spirit and togetherness we have got has been shown. It is unbelievable."
https://twitter.com/England/status/1014809571855093766
Happily, I am encouraged by the maturity of more and more fans who are looking beyond  the malice generated by club rivalry and fuelled by a media that thrives on conflict. England winning and team mates showing what can be achieved when barriers are broken down has been a great example to all of us.
As a Manchester United supporter I have often heard fellow fans criticise Jordan Henderson. But the truth is that the Liverpool midfielder has been outstanding at this Word Cup and anyone who appreciates and understands football will respect the Sunderland-born player for the talent that he has.
Equally, much of the bias against Sterling has been fuelled by club rivalry, particularly from Liverpool fans who have never forgiven him for the way he abandoned Merseyside for Manchester City. Add to that the grossly malicious media coverage that Sterling has attracted over the past year or two and it is easy to understand how players have suffered in the past when wearing the Three Lions.
Southgate has not only protected and shown admirable faith in his players, he has forged an unbreakable bond that has given England our pride back. Even if we do not emerge victorious on Wednesday night and then again at the weekend, the manager deserves our praise and our gratitude for doing what so many before him have failed to do. His young and improving England team has regained respect both at home and around the world, and the future augurs well for Southgate and the Three Lions.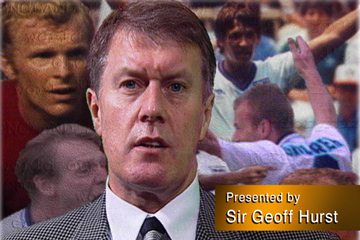 I do fear how the public may react when the party is over if we do not claim the ultimate prize. But my expectation is that this England team will return as heroes next weekend whatever happens next. Should we reach the final the celebrations would be unprecedented. And should we go all the way, heaven forbid, well this country would be gripped by the kind of euphoria the likes of which we have not seen since 1966.