As Gordon McQueen famously said when he left Leeds United back in the 70s: "Ninety-nine per cent of players want to play for Manchester United. The rest are liars." Four decades later nothing has changed.
Forget all the mischief-making and artificial outrage. The truth is that one of the most talented players ever to set foot in the Premier League has snubbed Manchester City's 'nouveau riche' revolution in favour of the world's most popular football club.
United are still the biggest and most glamorous club in England. That's the truth and everything else is fake news.
Every superstar of the modern game earns riches beyond the wildest dreams of ordinary mortals. Sanchez is by no means unique. But choosing the Theatre of Dreams instead of the Etihad gives Alexis the opportunity to be a much bigger star than he could ever be at any other Premier League club. And that is the bottom line. He is also a Man Utd fan.
Meantime, it is easy to understand why Henrikh Mkhitaryan, as widely reported, was emotional on his final day at United's Carrington Training Ground.  Making the move in the opposite direction in a swap deal that takes the Armenian to Arsenal ends Mkhitaryan's short love affair in Manchester with the club he always dreamed of joining.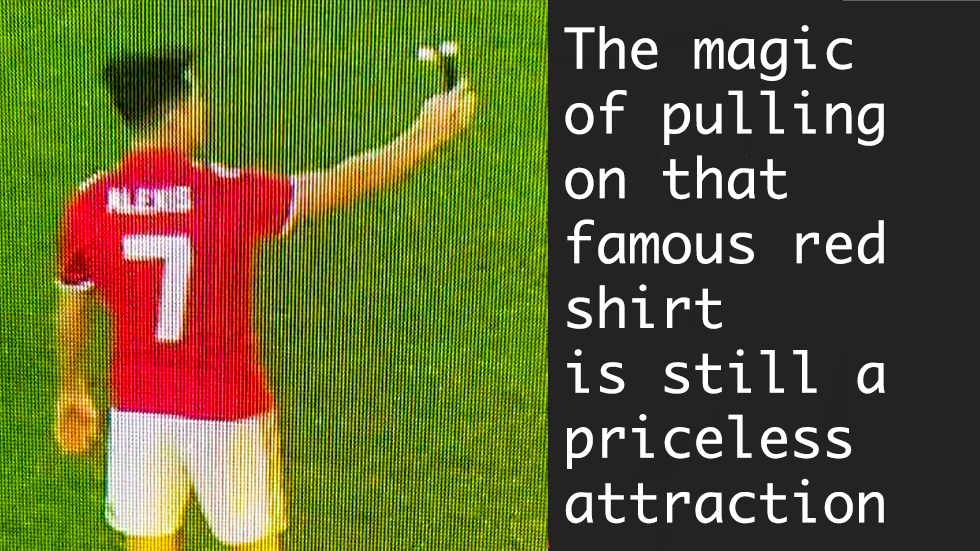 The board must take enormous credit for reminding everyone –  including Sanchez, the supporters, the critics and most crucially the owners – that Manchester United is still the special one.
Mourinho made demands before the transfer window opened that United must flex their financial muscles to reign in their rivals. And the decisive response of the club's executive vice-chairman Ed Woodward in delivering the backing to outmanoeuvre those noisy neighbours deserves a huge amount of praise.
Make no mistake, City have all the money and more to compete with United in the transfer market. But the magic of pulling on that famous red shirt is still a priceless attraction to a footballer who values the glory of helping United back to the top.
Ever since Sir Alex Ferguson's dynasty ended in 2013, there has been no shortage of critics revelling in United falling sort of the previous highs that saw them dominate the Premier League for more than two decades. And some people have conveniently short memories.
Fuelled by their Abu Dhabi-based multibillionaire owner Sheikh Mansour, Manchester City have emerged from the shadows. There is no doubt about that. And yet United still boast more trophies in the decade since their rivals were bought for £210 million in 2008.

Even last season Pep Guardiola ended his first campaign as coach without a trophy. The summer spending of over £220 million – more than it cost Mansour to buy the club lock, stock and barrel – has transformed his team into runaway leaders of the Premier League. City have set the pace in swashbuckling style, playing a breathtaking style of football envied by anyone who loves the beautiful game.
Ominously, City still have an interest in all four competitions and the bookmakers have already paid out on them winning the Premier League, so confident are they that Pep's team are guaranteed to succeed Chelsea as champions of England.
Take nothing away from City. They are playing fantasy football and have raised the bar so high that the rest must jump or be left behind. But United's signing of Sanchez is a reminder that Old Trafford is still the Theatre of Dreams at the biggest club on the planet. 
It is true that Guardiola has taken pole position with a 'play to win' philosophy that has at times embarrassed Mourinho's safety first mentality of 'must not lose' that is so alien to United's hardcore supporters who want entertainment at all costs.
As a fan who grew up watching Law, Best and Charlton from the Stretford End, I admit I've  been impatiently critical of Mourinho's reluctance to go toe to toe with Liverpool and Manchester City with all out attack. And yet I still hope that Jose has enough respect for United's history, and appreciation for the unconditional need to entertain, that he will not rest until he delivers success with the style and swagger the fans demand.
Signing Sanchez is a huge step in the right direction and sends out a message that the Empire is ready to strike back. Just take a look at the brilliant highlights Sanchez has already served up in his dazzling career and imagine how much better a player he will become surrounded by the likes of Paul Pogba, Anthony Martial and Marcus Rashford.
And do not under-estimate United's ability to attract more of the biggest names on the planet to join him at Old Trafford.
The question is how long will it be before United can truly match the financial firepower of Spanish giants Real Madrid and Barcelona on the transfer market. Not to mention the riches of Paris St Germain and Manchester City.
Real Madrid and Barcelona have had things their own way too long, their wealth unrestricted because they do not share revenue with the rest of La Liga as the elite have done in the Premier League. But real change may just be around the corner.
With a new television deal soon to be announced and United further incentivised by the massive potential to reign supreme if they can take control of their overseas broadcast rights, there is much at stake that could be settled off the pitch as well as on it.
@Alexis_Sanchez Welcome to @ManUtd what a player you are and we can't wait for that Number 7 shirt to Shine at Old Trafford again!!! #MUFC #AlexisisRed #Sanchez pic.twitter.com/lveNAFORNT

— Amit Mavar (@AmitMavar) January 22, 2018