In April 1990 the biggest story around was the emerging talent of Paul Gascoigne and whether or not England manager Bobby Robson would include Spurs' young midfield maestro in his squad of 22 for Italia 90.
On the eve of the Wembley International against Czechoslovakia, I'll never forget my first face to face encounter with Gazza.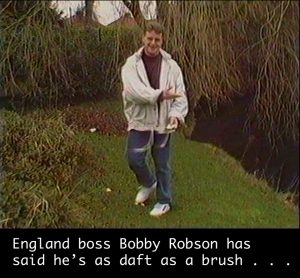 "I'd love to arrange a football match to play against you media guys because then I could go round and break all your legs," barked the mischievous Geordie boy with a huge grin, as we talked while we walked from the training pitch at Bisham abbey.
Truth was this was not a personal insult. Gazza had been an absolute joy to chat to when we first spoke on the phone the day he signed for Tottenham from his boyhood club Newcastle United. A few days after our Bisham Abbey encounter, he greeted me with a huge kiss on the cheek when we met in the foyer at Thames Television.
But battle lines had already been drawn with the media pack who would magnify every high, every low and every fart in between. Everyone who knew football knew that here was a genius the likes of which England has rarely seen, and everyone wanted a piece of him. The problem was the media had no filter when it came to reporting on this mercurial talent and some of his antics really should have remained private.
GAZZA WAS BOX OFFICE
After seven goals in the 37 games he starred in during his first season at White Hart Lane, Gazza was already box office. And the challenge facing both his club manager Terry Venables and England boss Robson was how to nurture this hugely exciting superstar in the making.
In all honesty it is easy for me to say now that Gazza was 100 percent right to distrust and despise certain sections of the popular media, especially those in the Fleet Street rat pack, who used and abused a footballing great destined to touch the heights at the upcoming World Cup and beyond.
Gascoigne knew that few members of the media could be trusted. And he was right to keep his distance as much as he could.
Sadly Gazza was unable to be so brutal with the hangers on who sucked the life out of him in his personal life. The shocking decline he experienced off the pitch after he retired from playing, when none of those hangers on were there to help pick up the pieces, has been one of English football's most heartbreaking stories.
But back in April 1990 Gazza's world was full of hope and expectation. Robson, who'd described him as "daft as a brush" told me the following night's match against Czechoslovakia was going to be a big opportunity for several players on his shortlist.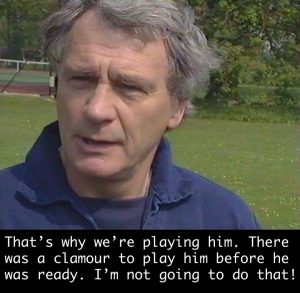 "If he comes on with a good mature performance and does reasonably well, he opens the door for himself," said the England manager. "That's why we're playing him.
"There was a clamour to have him in the England team before he was ready. I'm not going to do that! No! I'll play the boy when he's got the best opportunity and the best chance to play well for himself, and for the rest of the players."
It was a day Gazza insisted he wanted to let his football do the talking. And it was left to his Tottenham team mate Gary Lineker to tell me: "He's good fun. He's a lovely lad. Naturally he does things that sometimes he regrets afterwards. But he's learning. He's matured a lot over the last 18 months. I feel he's getting there, and he's still only a young lad really."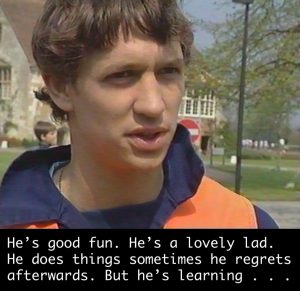 The history books will tell you that England beat the Czechs 4-2 the following night at Wembley, with Gascoigne netting his second goal for his country as Steve Bull scored twice and Stuart Pearce was the other English goalscorer. The story of the match, meantime, was that Gazza had a hand in all four goals. It was a dazzling display that booked his place in the squad for Italia 90, where he played a starring role to take England all the way to a World Cup semi-final penalty shootout against West Germany.