As a documentary filmmaker who loves the unconventional, I adored Marvellous, a magical tale based on a true story about former circus clown turned kitman Neil Baldwin.
The fact that it magnifies and highlights an inspired signing by my old MUTV buddy Lou Macari – one of my boyhood heroes – is a delicious bonus.
This marvellous drama is a wonderful legacy for a magnificent footballing legend who has a genuine heart of gold and an affinity with the common man that is sadly lacking in so many of today's so called stars.
Macari movingly says in the film that hiring sacked circus clown 'Nello' as his kitman at Stoke City was "the best signing" he ever made while he was manager of The Potters.
It was an inspired decision by a man who has endured so many heartaches of his own, from career threatening courtroom dramas to gut wrenching personal tragedy.
The way the BBC blurred this real story into a truly marvellous piece of television inter woven with fantasy and raw emotion was priceless. If you have yet to watch this televisual masterpiece it is only available on the BBC iPlayer until the end of October. [After that, see below for a link to the full programme on Neil Baldwin's YouTube Channel.]
Hearing Macari talk firsthand about the film and the true events behind it at a sportsman's evening in Berkshire this week reinforced everything I already thought about this ex-footballer/manager turned pundit. And more.
Little Lou was the footballer with the huge heart. A gem of a player I used to cheer on from the Stretford End when he was the darling of the Manchester United fans in the mid 1970s. I was there at Wembley in 1977 when Macari's shot deflected off Jimmy Greenhoff to claim a 2-1 win over favourites Liverpool that won the FA Cup
It was Liverpool's Bill Shankly who first told Macari he admired him because he was a player with a big heart when he unsuccessfully tried to sign him from Celtic before Tommy Docherty's razor sharpe assistant Paddy Crerand recruited him for United.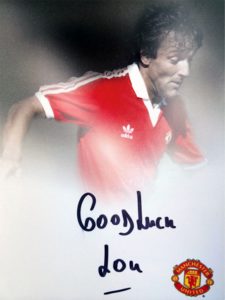 That big heart of gold was all apparent at the Belgian Arms in Holyport on Wednesday night where this pint-sized man who does not drink held his audience in the palm of his hands.
Hearing Lou tell the story of how he was driven down South from Glasgow and ended up sat next to Crerand at Anfield after being offered a '"massive" £190 a week contract to play for Liverpool was priceless on so many levels.
Landlord Nick Parkinson, son of famous Manchester United fan and chatshow host supreme Michael, watched on as TalkSport's Tony Lockwood coaxed a catalogue of inside stories from our celebrity guest.
For those of us who grew up watching old school sporting superstars like Macari this was a rare privilege that future generations are unlikely to ever experience. Can you imagine current stars like Gareth Bale or Raheem Sterling driving themselves on a 400 mile roundtrip on a wet Wednesday night to reminisce with 50 or so football fans. Not only that but he donated the £550 he raised by auctioning off a couple of tickets for a match at Old Trafford to the Stoke Foodbank charity.
Asked what he thought of Sterling being "too tired" to play for England, Macari's response gave us an insight into how times have changed. "When I played the game it was our responsibility to be fit. If I had told Jock Stein I was too tired to play for Celtic I would have been straight out of the club."
Equally fascinating was hearing Macari's tribute to Sir Alex Ferguson "as the greatest ever" manager whose record "will never be beaten" and his comparison to Stein, the man who set him on the road to stardom in the late sixties.
MARVELLOUS: Written by Peter Bowker and directed by Julian Farino is a Tiger Aspect production starring Toby Jones as Neil Baldwin and Tony Curran as Lou Macari. If ever a drama was destined to win awards, it is is this feature-length masterpiece.