Louis Van Gaal is the new king of the mind games. That's my verdict on another remarkable twist at this fascinating World Cup. Holland's elimination of brave Costa Rica in a Krul penalty shoot out will go down in football folklore as a dose of Dutch courage.
With the final place in the final four at stake this was the match to decide who plays Argentina in the semi final.
And underdogs Costa ignored all the odds with another incredible performance that denied the Dutch . . . Wesley Sneijder twice hit the woodwork and goalkeeper Kelvor Navas had the game of his life.
There was even a crucial save from Dutch keeper Jasper Cillessen to keep out Udena in a pulsating final few minutes of extra time.
Then came the real drama when van Gaal sent on substitute goalkeeper Tim Krul right at the end – purely for the penalty shoot out.
The Costa Ricans remember had scored 5 out 5 penalties to beat Greece in a shoot out in the previous round.
But this was a master stroke by the Dutch manager that clearly unsettled the opposition – and Krul joined in the mindgames by telling each penalty taker he knew where they would be aiming . . .
It worked as Krul made two saves and guessed right with all 5 penalties.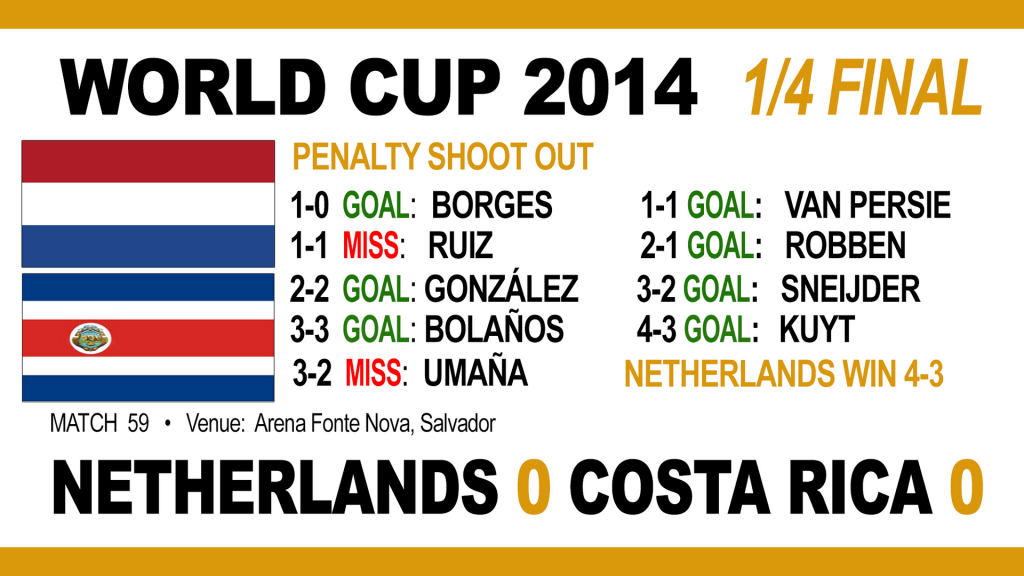 This has already been an unbelievable World Cup – but we've never seen anything like this before.
And Manchester United fans have joined the Dutch celebrations as they relish the prospects when Van Gaal takes over the Old Trafford hot seat in a few days time.
Argentine overcame the challenge of Belgium in the night's other quarter-final.
Higuain scored the only goal when he struck early. And for once the South Americans did not rely on their no.1 Messi to get them over the line.
That means both semi finals will be Europe against South America.
Argentina against Brazil was the final the bookmakers predicted
– but can Germany or the Dutch make history and become the first European side to win the tournament in South America.
The Dutch certainly believe if anyone can mastermind that Van Gaal can.