Hello and welcome to our second WORLD CUP report from Brazil 2014.
Entertainment wise the opening match was a real humdinger.
A thrilling 3-1 win for the host nation. And two goals for their star man NEYMAR.
But rough justice for CROATIA – on the receiving end of no fewer than THREE dubious decisions by Japanese referee Yuichi Nishimura.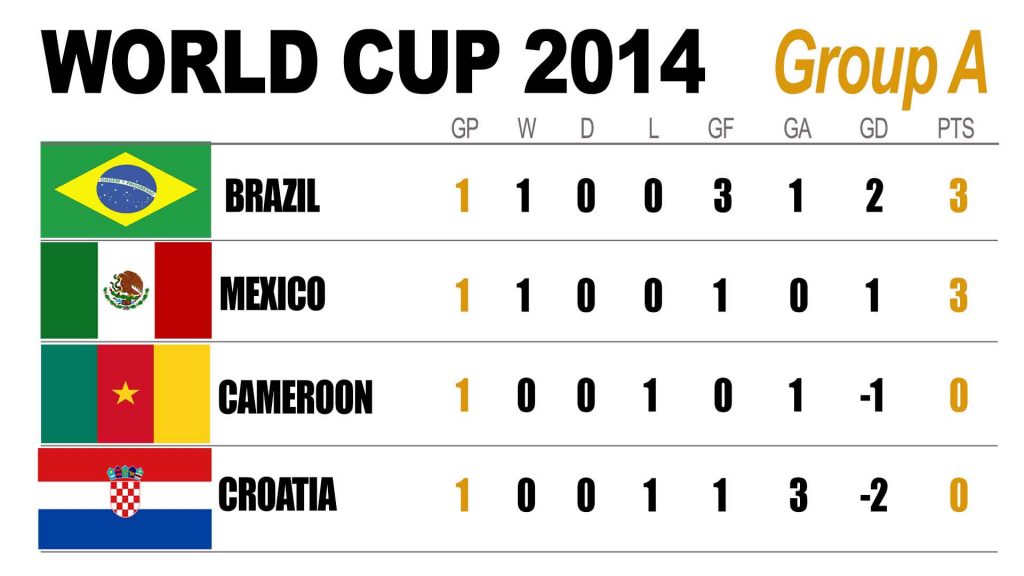 Cynics justifiably question whether or not this is blatant home bias.
The truth is FIFA desperately need Brazil to stay in the tournament as long as possible in the hope this will keep public disorder down a minimum.
On a more positive note, Brazil were good value for their win, albeit assisted by a Croatian goalkeeper at fault on all three goals conceded. Read my world cup blog for the full details. There's a link below this video.
There was more dodgy officiating in the other group A match.
Two perfectly good Mexican goals against Cameroon ruled out by poor decisions by the linesman. But MEXICO still prevailed a 61st minute goal by PERALTA taking all 3 points . . .
So Brazil top the group on goal difference – and it looks like CROATIA and MEXICO will battle it out for the runners up spot when they meet in their final match on June 23.
This is John Gubba with your World Cup report from BRAZIL 2014
What a start to the 2014 World Cup in Brazil. This was one of the most eventful opening matches we've seen in a tournament that so often kicks off with ultra caution.
Brazil are up and running. But let's face it the host nation had plenty of help. Neymar should have had a red card before he got on the scoresheet with a match winning double. Japanese referee Yuichi Nishimura also got it wrong when he gave Brazil a penalty for Neymar's second goal. Fred was guilty of simulation when challenged by Lovren.
Croatia had the perfect start when they were gifted an own goal by Marcello. But the Croat goalkeeper Stipe Pletikos was even more generous – at fault with all three Brazil goals.
Brazil were also lucky when Croatia had an 83rd minute equaliser ruled out for a dubious foul on keeper Julio Cesar. That would have made it 2-2. Instead Oscar had the final say when his injury time  clincher again caught out the keeper.
FIFA desperately need Brazil to stay in a tournament already attracting massive public protests because of the money spent on hosting the event. That's why cynics will question the integrity of the referee who made THREE dubious decisions that all favoured the home side.
THE MATCH: The drama began with calamity for the host nation inside the opening 11 minutes and an own goal by Marcello.
Wild celebrations by Croatia – and their small pocket of fans in a partisan crowd.
The first card of the tournament went to Neymar on 27 mins – Brazil's biggest star relieved it was only yellow.
Then just over a minute later he squeezed home an equaliser.
The biggest controversy though came on 69 minutes.
Lovren's challenge on Fred conceding a penalty that looked more than generous by the Japanese referee Yuichi Nishimura.
Take a look at the replay and there's little doubt in my mind that this was blatant cheating by the Brazilian.
When Neymar stepped up to take the spot kick the keeper got both hands on the ball but he couldn't keep it out.
There was more drama seven minutes from time when Croatia had the ball in the net again. The equaliser harshly ruled out for a foul on goalkeeper Julio Cesar.
Then In injury time Brazil had the final say with a decisive goal from Oscar – a clever early strike by the Chelsea midfielder that made the final score 3-1.
The host nation believe winning a record sixth World Cup trophy is their destiny. And in the end this was a perfect start.