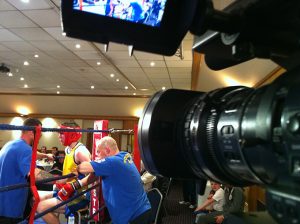 There are many sports that can learn from the respect and sportsmanship shown by some of the country's outstanding upcoming fighters.
And what an inspiration for the young boxers to have legends like former World Champion Dennis Andries in attendance. The Hackney Rock, who won three world titles between 1986 and 1990, is a great supporter of amateur boxing.
This evening I witnessed first hand a great night of amateur boxing on Pinewood Starr's outstanding bill at the Blue Mountain Golf Club in Berkshire. And what a pleasureit was.
FIGHT NIGHT action: Andrew Taylor (Pinweood) v Matt Wastell (Southend)