It was the autumn of 1991 and I was checking into Edinburgh Airport with Frank Bough, former England captain Steve Smith and the rest of the ITV Sport team returning from a Rugby World Cup match at Murrayfield. In the distance was a familiar figure walking towards us carrying a sports bag and his fishing gear. It was Tony Gubba.
By pure coincidence, my uncle was on the same flight back to Heathrow and he was just as surprised by this unexpected welcome party as we were to see what he was trying to check in as hand luggage. The sports bag was unzipped and packed with ice to keep fresh the huge salmon he had caught that afternoon. One of Tony's great passions was fishing and while we had been at the game, Tony was relaxing on a quiet riverbank .
This surreal scene took an unexpected twist when the check-in staff insisted the salmon was not permitted on the flight because "transporting dead animals as hand luggage was not permitted."  But that of course was red rag to a bull. And typical of one of the most resourceful sports journalists and broadcasters of his generation, our Tony weaved his magic and managed to find a way to get his catch on board and safety home to Berkshire.
It was a tribute from his old pal John Motson, speaking after the tragic news broke that Tony had passed away at the age of 69, that reminded me of this amusing episode.
"What I like most about Tony and it worked in my favour many times was his sheer determination and persistence. He would never take no for an answer," recalls Motty.
"In 1974 he and I went to our first World Cup in what was then West Germany. And of course the wall was still there and West Germany were about to play East Germany in a highly political match. And on the plane over Tony said 'I'm going to do my first piece walking along the Berlin Wall.' And I said don't be ridiculous there will be guns on one side and he said 'Don't worry. I will do it'  and he managed to get permission to walk along the wall and do this piece to camera."
Three World Cups later, the two buddies were both commentating again at Mexico 86 and Motty paints an even more exotic picture when he remembers: "Tony said we are going to have to go and watch the Russians play you know. And I said they haven't got any warm up games and he said yes they've got one private game. It's about 240 miles away. And he named the place. And I said how are we going to get there and he said I'm going to hire a plane.
"He went out and got a 4-seater plane. And the two of us on our own with the pilot went to this place in the middle of Mexico. When we got there there were some very stern Russian officials saying you can't come in. This is a private friendly and Tony sort of said something about the BBC and the guy said well you better come in and go and sit on the touchline with the coaches."
Whether it was requisitioning an aeroplane to pursue a story, risking personal danger to film a classic piece of video or using his charming powers of persuasion to get his own way, this was who I looked up to and wanted to be like.
When I was a kid growing up in the late 60s and early 70s,Tony was the ultimate role model for me because I wanted to follow in his footsteps. Not just because he was living the dream with a career in the media, he always seemed to have a beautiful sports car and a never ending procession of glamorous admirers.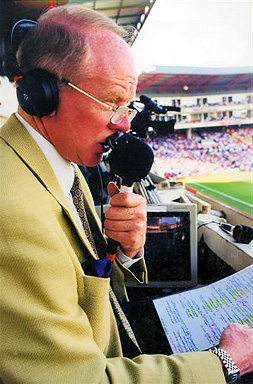 I remember when Tony made the switch from newspapers to TV, leaving the Daily Mirror in Manchester to head to the South Coast and a job with Southern TV. It was a long drive to his new home in Southampton and I loved it when he took me there for visits during the school holidays. He was not impressed when I got car sick the first time we made that trip. But it was all good character building and watching his career take off was a great inspiration.
It was not long before the switch from ITV to BBC and it was only a matter of time before Tony made it into the wonderful world of sports broadcasting. I was bursting with pride when he was chosen to present Sportsnight after David Coleman left the programme in 1972. I can't imagine how thrilled he must have been. Tony had hit the big time and no one deserved it more than he did.  He later became the frontman for Grandstand, alongside Frank Bough, the man I would get to work with myself a couple of decades later, and he also presented Match of the Day, where he made his name as an outstanding football commentator.
For many football fans of my generation, we grew up listening to John Motson, Barry Davies and Tony Gubba doing the commentary on MOTD.
Along with my father, his older brother Ron, uncle Tony got me hooked on Manchester United. And I will always remember how a BBC camera picked out his celebration on the pitch behind the goal when Norman Whiteside famously won the 1985 FA Cup Final for United's 10-men in a dramatic injury time against Everton.
Less than 10 years later I had the honour of working with my uncle when Visionsport International – the independent production company I set up after leaving ITV started filming Premier League football. With Tony often the commentator at matches where we supplied the host broadcast coverage, one of the highlights for both of us was when my uncle provided the commentary and we supplied the coverage of Manchester United's record 9-0 win against Ipswich Town at Old Trafford. There were many occasions when that familiar voice provided the soundtrack to our pictures.
Sportsnight editor Jonathan Martin, who later became head of sport at the BBC, summed up Tony's qualities that earned him his place in the hot seat vacated by Coleman when he said: "His strength was that he was a very good broadcaster and journalist. He was mainly a football man to start with, and that was his real love, but he was very flexible. He could turn his hand to anything. Bobsleigh, table tennis, ice-skating, ski jumping, rowing … He would be on everybody's team for the winter and summer Olympics. He never complained or grumbled when he was asked to do something, he just went away and did his homework. He could present, commentate and was a first-class reporter."
But Tony was a natural entertainer who was always destined to get a taste of showbusiness. A talented singer, who enrolled at the Northern music college with thoughts of becoming an operatic tenor, he once dressed up as Pavarotti and gave an outstanding rendition on David Baddiel and Frank Skinner's cult TV show Fantasy Football.  It suited him down to the ground, although he initially turned down the role, when Christopher Dean and Jayne Torvill personally chose him to be the commentator on ITV's Dancing on Ice. His tongue in cheek commentary was always one of the highlights of one of the most popular shows on ITV. Classic lines like "He skates like Benny Hill chasing a chorus girl" when describing Kieran Bracken and "He's not normally this active before midnight" in a respectful tease of Lee Sharpe, the ex-footballer with a playboy reputation, earned him a new legion of fans.
Along with the rest of the Gubba family, I felt devastated when the end came so suddenly on 11 March 2013, just a few short weeks after he was diagnosed with leukaemia. My heart goes out to his beautiful daughters Claire and Libby and his partner of the past 15 years, Jenny. But the memories will live on forever. And if you would like to help fight the cancer that killed one of the great voices of the past 40 years please visit this site Memory Giving