How the outrageous lies that were encouraged by Margaret Thatcher's Tory government in the wake of the Hillsborough tragedy of 1989 have been covered up for so long is one of the biggest scandals of our lifetime.
Thank God that the Truth has finally come out. Now the demands for Justice will follow and it is time for the brave families who have campaigned for 23 years to be given the respect they deserve.
As Hillsborough Family Support Group campaigner Trevor Hicks, whose two daughters were among the 96 killed before the FA Cup semi-final between Liverpool and Nottingham Forest, has said:  "It was a contrived, manipulated and vengeful and spiteful attempt to divert the blame."
It is almost beyond belief that South Yorkshire Police and the Ambulance Service were allowed to cover up their gross negligence, in the full knowledge of the Tory government.
Many of us have never ever doubted that the establishment wronged the victims. But the scale of the scandal is breathtaking.
The Hillsborough Independent Panel found that South Yorkshire Police and the emergency services made "strenuous attempts" to deflect the blame for the crush onto victims. And the report found 116 police statements were "amended to remove or alter comments unfavourable to South Yorkshire Police".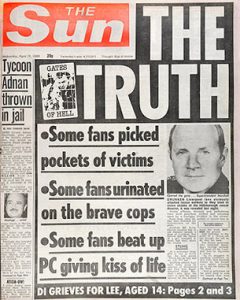 For the Sun newsapaper to fuel the cover up with their outrageous claims that the victims were an unlawful bunch of drunks responsible for their own deaths is probably the biggest insult ever by any media organisation in history. It is no surprise that copies of Rupert Murdoch's shameless rag are still being burnt on the streets of Merseyside.
Only now the truth is out has the newspaper's editor Kelvin McKenzie finally had the decency to say sorry. But it is too late.  It is too late for the families who have spent most of their adult lives campaigning for justice. The damage has been done and the new revelations that 41 of the dead could have lived if the tragedy had been dealt with correctly only makes the pain worse.
The day of reckoning has arrived for the guilty men and women who tried to blame the victims for the tragedy, and then successfully covered up their failings with the tacit support of British Prime Minister Margaret Thatcher.
May the 96 who died at Hillsborough finally Rest In Peace.