Women's beach volleyball will be one of the most popular spectator sports at London 2012 – and there will be no complaints from the vast majority of male fans that our British girls have given a thumbs up to playing in bikinis.
Beach volleyball's governing body, criticised in some quarters for trying to sex up the sport's image by enforcing the skimpiest possible bikinis, recently brought in a new dress code that permits shorts and sleeved tops.
The International Volleyball Federation (FIVB) have relaxed the rules to cater for different countries' cultural or religious beliefs. Until now players had to choose between a skimpy bikini and a full bodysuit – usually used in cold or wet weather.
But FIVB insist they are not trying to shed the sport's sexy image and Team GB duo Zara Dampney and Shauna Mullin say they have no absolutely problem competing in bikinis.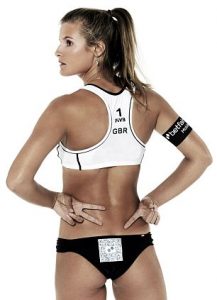 Mullin insists it's not a requirement to look sexy. But adds: "Obviously it's the best thing we can play in. I would not want to be on the sand in anything else. "
Last year the pair cashed on on the sport's glamorous 'Baywatch with balls' image when they signed a sponsorship deal with bookmakers Betfair to rent out their rears in an advertising deal that encouraged spectators to photograph their sexy bums.
It meant the girls wore bikini briefs with a Quick Response (QR) code printed on the back designed to catch the eye of spectators. When photographed on a smartphone, the matrix barcode takes the user to the sponsor's website.
"When I was  playing I was not thinking about the barcode on our bikinis," said Dampney. "But obviously we're professional athletes and a way for us to make money is through endorsements and we were approached by a company and we saw it as a good business deal."
At London 2012 Dampney (left and bottom right) and Mullin (bottom left) will of course be wearing the stunning Team GB kit designed by Stella McCartney. And the girls report they are absolutely thrilled with their outfits.
Beach volleyball will take place on Horse Guards Parade and it seems the sport is proving a favourite  for MPs and civil servants. It has been reported that the Government has spent £26,000 on 410 tickets for the event, more than for athletics. Now who would have thought that would happen?