On the weekend English football celebrates the 140th anniversary of the world's greatest domestic competition it is fitting that this season's first round kicked off with at a tie at one of its first venues – York Road, Maidenhead.
Back on 11 November 1871 the ground hosted one of the first four fixtures ever played in the FA Cup when Maidenhead beat local rivals Marlow 2-0.
This afternoon York Road – the oldest continually used ground in the world by the same club – saw Maidenhead battle out a 1-1 draw with Aldershot.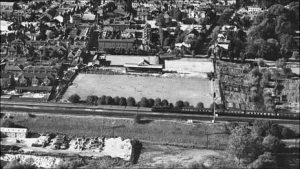 Who would have thought all those years ago that the FA Cup would become the most popular domestic cup competition in the world?
In a world of modern stadia, Maidenhead's York Road is a throw back to a bygone era and there are constant reminders of their past and present in the club's boardroom, with photos and memorabilia dating back to its inception in 1870.
FA Cup Round One
Saturday,  11 November 1871
Upton Park 0-3 Clapham Rovers
Crystal Palace 0-0 Hitchin
Maidenhead 2-0 Marlow
Barnes 2-0 Civil Service.
"This is a club packed with history and tradition and it is great being a part of it," Maidenhead chairman Peter Griffin told BBC Sport. According to the Guinness Book of Records, the oldest football ground in the world is Sandygate Road in Crosspool, Sheffield. A football and cricket stadium, it is home to Hallam F.C. and Hallam Cricket Club.