Like it or not Luis Nani is going to be compared to Cristiano Ronaldo every time he does something special – and the way the 24-year-old Portuguese boy wonder is maturing into a world class performer that is going be a regular occurence.
The truth is Nani can do most things Ronaldo can do and then some. And the stats show he is a better team player than his fellow countryman was in his first 100 Premier League games for Manchester United . . . both scoring 19 times but Nani has nearly three times as many assists.
Nani does not like being compared to his former team-mate and you have to respect United's current Portuguese superstar for wanting to be judged as an individual. He certainly deserves the right to be revered as one of the game's outstanding talents.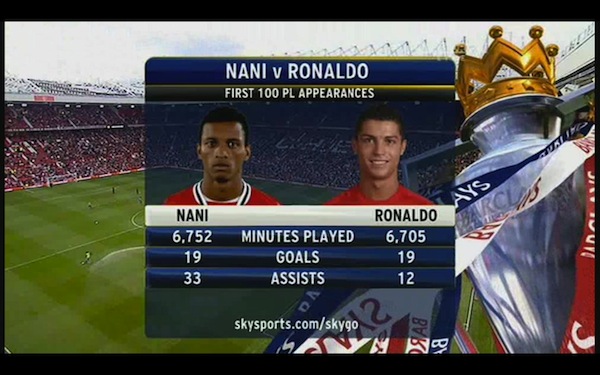 Since marking his 100th Premier League game with an awesome strike in United's 3-1 demolition of Chelsea, Nani unloaded another stunning strike that earned a point at Stoke City this evening. But it is his all round contribution that is really starting to get noticed. And his growing maturity is great news both for Manchester United and Portugal.
Watch out for upcoming news about my new film with Nani coming soon