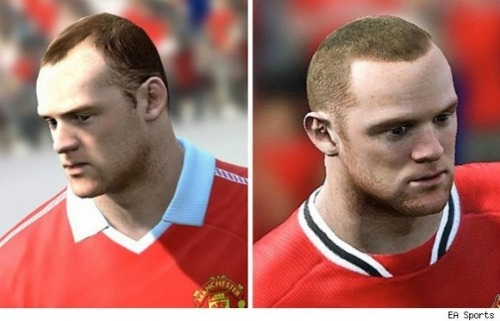 FIFA 12 is all about authenticity – but the guys at EA Sports have taken attention to detail  to a whole new level with a newlook Wayne Rooney.
In the upcoming release of FIFA 12, the makers of the world's most famous football game have painstakingly upgraded Wayne Rooney's hairstyle so his new hair transplant is plain to see. "Trust me this will be the best FIFA game ever," announced Rooney on Twitter.
Wazza's receding hairline is clearly visible in the old version. But you can see the difference in incredible detail in the new improved image of the Manchester United and England superstar, who films the commercial for the new FIFA game at the end of August.
INDIA'S ICONIC BATSMAN VIRENDER SEHWAG WON WORLD CUP AFTER HAVING 'A WAYNE ROONEY'
Check out the amazing new gameplay features in action on FIFA 12