"I'm 26 but I'm just a kid who loves riding my bike" is how cycling superstar Mark Cavendish describes his passion for cycling that has made him of the sport's greatest ever riders.
He is outspoken and warns his Twitter followers: "Fast sprinter. Fast talker. Disclaimer: May cause offence."
He proudly describes himself as "The fastest man on two wheels" and not everyone appreciates his self-confidence bordering on arrogance. But make no mistake Cavendish is one of sport's greatest ever athletes.
Last month he achieved a lifetime's ambition when he won the final stage of the Tour de France in Paris. It was a landmark achievment that made him Britain's first winner of the prestigious green jersey for the race's best sprinter. When he crossed the line first after a frenetic sprint finish on the Champs-Elysees, it was his 20th stage win of the world's most famous cycling event.
Across Europe he is a household name in countries where cycling is a major sport. But his profile in Britain is much more low key because cycling has never quite demanded the attention it deserves, despite the incredible heroics of the current generation of cycling superstars, from Sir Chris Hoy to Bradley Wiggins.
When it comes to sprinting, Cavendish is arguably the best we have ever seen.
Fellow Brit David Millar recently put things into perspective when he told the BBC that Cavendish is the "greatest sprinter in cycling history" and hailed the Manxman – who currently rides for HTC and is being chased by Team Sky – as the David Beckham of his sport.
"The UK needs to understand we have one of the greatest of all time," declared Millar. "At the moment, he's the UK's greatest athlete. He is probably the greatest sprinter in the history of cycling. It's sad that it's not appreciated to the degree it should be. In France, Belgium and Italy, he is like David Beckham."
Cavendish aims to one day be thought of in the same light as other greats of his sport and his next target is victory at the World Championships in September.
'I want to add my name in the book of cycling greats next to (Eddy) Merckx, (Bernard) Hinault, (Lance) Armstrong. How many names are there in this book? 20? 30? I don't know. But I want my name to be there too someday."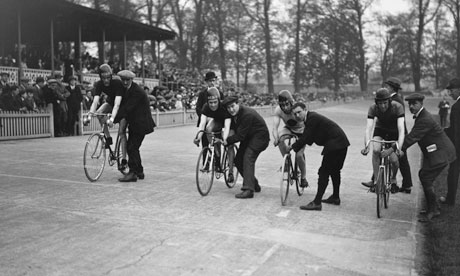 After decades of gradual decay, work has finally begun to repair  London's last remaining venue from the city's 1948 Olympics, the velodrome at Herne Hill. Even in its rundown state, the velodrome has remained one of the UK's most important cycling venues, hosting competitions and introducing younger generations of cyclists to track racing, among them multi-Olympic medallist Bradley Wiggins.