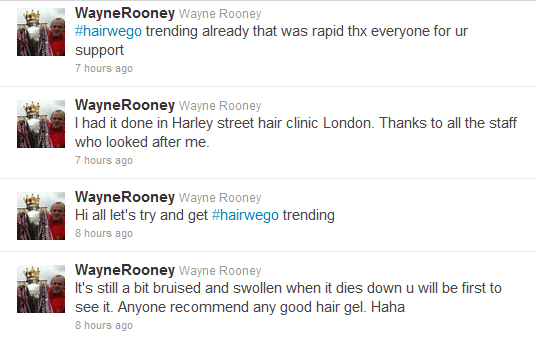 Wayne Rooney deserves enormous credit for announcing to his 740,000 followers on Twitter that he has had a hair transplant.
There is absolutely nothing wrong with having the treatment and I can personally vouch for the latest direct hair implantation technique because I have had it myself – and the results are miraculous.
By going public Rooney has single-handedly done a great service to all those men – and women – out there suffering from hair loss who want to do something about it.
Two years ago I started filming a documentary, because I wanted to expose the myths and find out the truth about hair loss
There are many celebrities and sports stars out there who have had the treatment but are too shy to talk about it.
We all saw Ryan Giggs being photographed coming out of a clinic. And does anyone doubt that David Beckham has had a hair transplant? Not to mention half of Hollywood and many of the most famous men on the planet.
For those who missed Rooney's tweets about his hair transplant, here they are:
"Just to confirm to all my followers I have had a hair transplant. I was going bald at 25 why not. I'm delighted with the result.
"It's still a bit bruised and swollen when it dies down u will be first to see it. Anyone recommend any good hair gel. Haha."
Rooney has received morale support from thousands of well-wishers on twitter, including a message from his wife Colleen who said: "Hiya!! Yes Wayne's had his hair done! His own decision not me asking him, like a lot are saying!! Pleased for him and it will look great."
Meanwhile, Manchester United and England teammate Rio Ferdinand joked: "Just don't go down the wearing a alice band route!! You'll be doing head&shoulders adverts soon! Hope its gone OK Good luck lad."