On the weekend that Sir Alex Ferguson was denied a third Champions League triumph by Barcelona, it is worth remembering one of British football's other great knights who did achieve one of his greatest feats thirty years ago this month.
The late Sir Bobby Robson always said that his best ever team was the Boys of 81 side that won the UEFA Cup for unfashionable Ipswich Town in May 1981.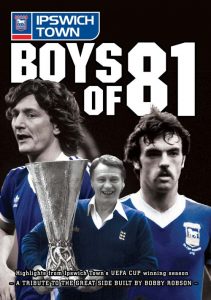 Tomorrow (May 30) most of Sir Bobby's triumphant squad – including Mick Mills, George Burley, Frans Thijssen and John Wark –  will will be re-united  when they join fans for a gala dinner at the Town Hall in Ipswich.
To celebrate the 30th anniversary of Town's historic achievement VISIONSPORT.TV have produced a commemorative DVD that includes full highlights from the 80/81 season and a special tribute to Sir Bobby.
"Bobby Robson was the greatest football manager I ever played for," says former Ipswich Town, Liverpool, Middlesbrough and Scotland midfield legend John Wark.

The official Boys of 81 DVD include all the highlights from an epic 1980/81 season when Ipswich Town were on for an unprecedented Treble. Bobby's Boys had to settle for the UEFA Cup after finishing runners-up to Aston Villa in the title race and being knocked out of the FA Cup by Manchester City.
Sir Bobby Robson's Boys of 81 were the greatest #itfc team ever https://t.co/jY21z8KV0R

— ITFC Greatest Goals (@ITFCgoals) November 30, 2015